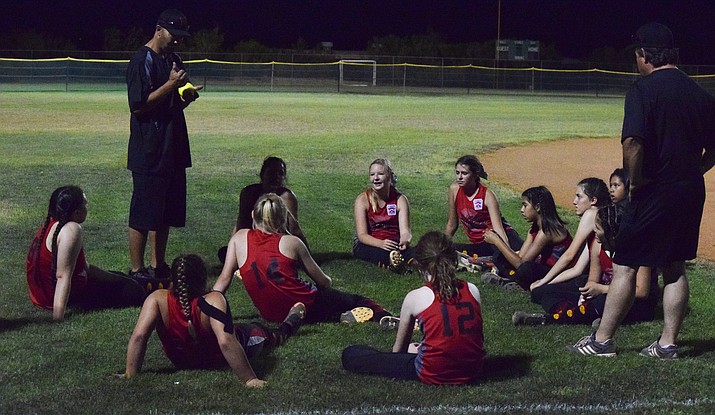 Originally Published: June 24, 2017 1:52 p.m.
WICKENBURG – Verde Valley Little League softball major all-star team held on to advance to the district 10 championship game.
Verde Valley beat Williams 2-1 on Friday night at Sunset Park in Wickenburg to win the loser's bracket.
"Close game, we weren't hitting like I thought we were going to," said Verde Valley head coach Creighton Kim. "We struggled against their pitchers for some reason, we weren't seeing it clear, but other than that, they came out. They made defensive plays, which is a lot better than (Thursday) night and pitching was great."
VVLL faces Bagdad in the championship game on Saturday night but results were not available at press time.
Bagdad went undefeated in the first three rounds, beating Prescott Valley 12-2, Williams 12-2 and Verde Valley 12-2.
Meanwhile, Verde Valley beat Camp Verde 26-4 and Wickenburg 20-0.
"It went well," Kim said about the tournament. "The only loss we had was against Bagdad and they're a decent ball club."
Camp Verde also lost to Williams 24-10 to get eliminated.
Little League All-Stars
Minors baseball
Cureton Park,
Williams
Prescott 23, Camp Verde 2
Prescott 24, Verde Valley 1
Verde Valley 13, Wickenburg 3
Williams 21, Camp Verde 6
Verde Valley 16, Williams 13
Prescott Valley 10, Verde Valley 8
Majors softball
Sunset Park,
Wickenburg
Verde Valley 26, Camp Verde 4
Verde Valley 20, Wickenburg 0
Williams 24, Camp Verde 10
Bagdad 12, Verde Valley 2
Verde Valley 2, Williams 1
Minors softball
Sunset Park,
Wickenburg
Prescott Valley 26, Verde Valley 12
9/10/11 baseball
Mountain Valley Park, Prescott Valley
June 27
Verde Valley vs. TBD 6 p.m.
Camp Verde vs. TBD 6 p.m.
Majors baseball
Bill Valley Park,
Prescott
June 28
Wickenburg vs. Camp Verde 6 p.m.
Prescott vs. Verde Valley 8 p.m.
Juniors baseball
Camp Verde High School
July 5
Camp Verde vs. Wickenburg 5:30 p.m.
July 6
Verde Valley vs. TBD 8 p.m.
Bagdad is a familiar foe, they beat Kim's regular season team in the Tournament of Champions.
VVLL will have to beat Bagdad twice in a row on Saturday night.
"I think it's going to be tough but it's doable," Kim said. "We didn't do so well when we played them. Our pitching was off and we were making errors. So if we get our pitching on and we let go of some errors and we'll be good, because we hit both games, it's just right to them."
In the championship of the loser's bracket, Verde Valley scored twice in the third inning and after Williams responded in the fourth with a run, VVLL was able to hold off WLL.
Centerfielder Mariana Lopez led off the third with a hit and she would later score on an RBI by McKell Gordon, who later scored the second run.
Gordon was also in the circle and mainly held Williams in check.
Kim said the all-stars mostly came from his team, with three coming from three of the other four Verde Valley Little League majors teams.
The tournament is for 10, 11 and 12 year olds.
Kim said fielding a team of all-stars mostly from the same team is huge, though catcher Madison Mathis was one of the additions.
He said the new players fit in pretty quick.
"She's outstanding, she doesn't know how we work and that's huge as a catcher," Kim said.