Editorial: Parsons Park a fitting tribute to Verde River's best friend
Originally Published: June 27, 2017 noon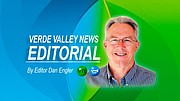 Sometimes the answer to a question is staring you right in the face.
That was the situation Camp Verde Economic Development Director Steve Ayers encountered when folks began tossing out names for the town's new riverfront park.
None of the suggested names generated much excitement until Ayers came up with the name "Parsons Park" in honor of longtime Verde River advocate John R. Parsons.
The idea had been floating around in Ayers' head for a number of years. Renowned Northern Arizona geologist Wayne Ranney had once told Ayers the Verde Valley needed to do something significant to honor Parsons for all he had done on behalf of the river.
Once the words "Parsons Park" came out of Ayers' mouth, it was enthusiastically received by all involved in planning for parks and river recreation needs in Camp Verde. Now, all that remains is to make it official by action of the Town Council, whose members are expected to take up the proposal July 19.
It should be one of the easiest decisions the council ever makes, and one that is long overdue. Good for Camp Verde for recognizing this.
Only those who have lived in the Verde Valley for three or more decades and saw first-hand the battles John Parsons was willing to take on to ensure the Verde was truly a free-flowing river can appreciate his efforts. He took on a powerful industry in challenging the propriety of river dredging by materials companies. He raised important questions about the 1980s-era unlimited back-roads access to the river, bank stabilization practices and illegal and unregulated dams that used old car bodies to back up the river.
There are those today who still refer to the river as the "Dirty Verde," but it really was a dirty mess 30 years ago. John Parsons, more than anyone else, was the person who challenged the status quo and raised awareness that we were guilty of trashing the single most important asset in the Verde Valley. He fought those battles locally as well as on the county, state and federal levels.
The Verde River never had a better friend than John R. Parsons.
Naming a riverfront park in his honor is the least we can do for him.
More like this story
SUBMIT FEEDBACK
Click Below to: