Mingus selects Dr. Hargrove to become next superintendent
Board agrees to enter contract negotiations with superintendent of Hiawatha, Kansas school district
By
Bill Helm
|
BillHelm42
Originally Published: March 1, 2017 2:12 p.m.
COTTONWOOD – Twenty years ago, Penny Hargrove was a stay-at-home mom raising her two sons.
Then, she went through a divorce – and started, then finished her college education in less than four years "so I could take care of my kids," she said.
After nearly 20 years teaching, then leading Kansas schools, Dr. Hargrove has agreed to negotiate a contract with the Mingus Union High School District to become the district's next superintendent.
One of four finalists the district's governing board had chosen to interview on Feb. 27, Dr. Hargrove was the "unanimous choice by the board, the staff and the community process," board member Jim Ledbetter told the public Tuesday following the board's nearly one hour in executive session.
Said Ledbetter, Dr. Hargrove "approached the interview process with extreme candor, researched the district well and had significant insights both educationally and in terms of the district."
Dr. Hargrove is a "finalist for jobs with other districts" in Arizona, Ledbetter also said.
"Hopefully, we'll have a contract with her to begin on July 1," Ledbetter said.
Just prior to Monday's meet and greet with the community, Dr. Hargrove said that she "really like[s] the emphasis on college and career ready" at Mingus Union.
"Their goals, it's a good fit for me," Dr. Hargrove also said on Monday. "It's child-centered, preparing our kids for their future."
Following the board's public announcement to enter into contract negotiations with Dr. Hargrove, Mingus Union board president Anita Glazar applauded the board's collective decision to select the superintendent of Hiawatha Public Schools to replace interim superintendent Dr. Jack Keegan.
Dr. Keegan replaced interim superintendent Eric Harmon in July following Dr. Paul Tighe's departure after three years to become superintendent at Saddle Mountain Unified School District.
"She's very thoughtful, and a good listener," Glazar said following Tuesday's board meeting. "She's kid-oriented and wants to be a member of the community. She's done great things at [Hiawatha Public Schools]. And she will do great things here. She was an exciting interview."
Dr. Hargrove was one of four finalists the position of district superintendent. The board, a committee of district staff, as well as community members also interviewed Dr. Margaret Crespo, chief academic officer with the Thompson School District in Loveland, Colorado; Dr. Justin Roberson, principal with Tuba City Unified School District; and Todd Peterson, Human Resources director of the Whiteriver Unified School District.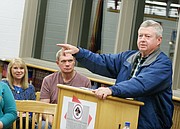 Plea to consider unification
Before the Mingus Union school board moved to executive session to discuss employment contract negotiations, Cottonwood resident Andy Groseta asked the board to consider his desire for Mingus Union, Cottonwood-Oak Creek and Clarkdale-Jerome school districts to unify as one.
"I honestly think it's one of the best things we could do," said Groseta, former president of the Mingus Union High School District's governing board. "I think there's room for improvement for all districts."
Who is Dr. Penny Hargrove?
Dr. Penny Hargrove married her second husband, Grover, 17 years ago. Back then, she had no designs on leadership, principalship, certainly not superintendentship, she said.
"You wouldn't recognize me 20 years ago," she said. "Before I met Grover, I was quiet, shy, I had no self-confidence. Teaching was scary enough."
Dr. Hargrove's career in education has been spent entirely in Kansas. She began her career as a science teacher at Haysville Middle School in Haysville before she became K-12 principal at Wakefield Schools in Wakefield, then middle school principal at Valley Center Middle School before becoming assistant superintendent at Valley Center Public Schools.
Five years ago, Dr. Hargrove became superintendent at Hiawatha Public Schools in Hiawatha.
In 2014, Dr. Hargrove earned her Doctorate in Educational Leadership from Wichita State University.
Coming home for the first time
Once upon a time, Dr. Hargrove's parents retired to Tucson. Nowadays, one of her two sons and four of her six grandchildren call the Phoenix area home.
Dr. Hargrove called her current school district's board members following Tuesday's MUHSD decision.
"They have mixed feelings," Dr. Hargrove said. "But they have known that this is where we were looking at."
Since Tuesday night's meeting, Dr. Hargrove has also sent an email to her staff to advise of her plans to leave for Arizona.
But whether she was to work in Kansas or Arizona, Dr. Hargrove said that she is an "advocate for the kids."
"The kids I serve, they become my kids," Dr. Hargrove said. "I'd fight for them as if I'd fight for my own children. I want them to all be successful, out there happy doing what they want to do, making a difference. I'm probably too passionate, but that's that drives me."
More like this story
SUBMIT FEEDBACK
Click Below to: