Short-handed Mingus boys tennis drops home match to Agua Fria
Originally Published: March 4, 2017 1:30 p.m.
Mingus Union boys tennis played short handed again, on Thursday afternoon, but came up with a different result.
The Marauders (1-1) lost 9-0 to Agua Fria in their second home match of the season. The Owls (2-1) have won their last two matches 9-0.
"Well the other team was better than us today, as in the last match, we were missing two of our top six players," said Mingus Union Larry Lineberry. "So I remain not knowing how good we are because the two matches we've played, I've only had two thirds of my starting line up."
The Marauders opened the season with a 6-3 win over Moon Valley on February 23 despite missing a couple of their top six players.
Mingus Union was without juniors Caleb Wylie, the No. 2 singles player and Crue Taylor, No. 4 in singles.
Lineberry said missing a couple key players was a big difference for Mingus Union, but that Agua Fria was just too strong for the Marauders.
"I'm not sure it would have made a difference (Thursday), we might have won a couple more points but that team was just better than us," Lineberry said. "They're a little bit more experienced, they were good from top to bottom."
In the No. 1 match, senior Alex Flannery lost 6-1, 6-2. In the No. 2 match, junior Nick Ruggiero fell 6-1, 6-3 and Brigham Peterson lost the No. 3 match 6-3, 6-0.
A bright spot for Mingus Union was junior Prince Setsaengsri in the No. 4 match as he won a set 6-1 after losing 6-1 and then lost the third 10-4. Setsaengsri was the only Marauder to win a set.
"He lost in the match tie breaker but he played a solid match," Lineberry said.
Mingus Union's top doubles team lost 9-7 and their No. 2 side was defeated 8-4. In the No. 1 doubles matcher, it was the first time that Flannery and Ruggiero had played together.
Flannery and Ruggiero rallied to get back into but lost it when Ruggiero was serving the match.
"That happens, he's nervous and still working on his serve but it was a good result, a good loss if there is such a thing," Lineberry said.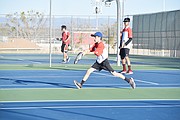 The match was Mingus Union's first since the season opener a week earlier. The weather forced a postponement of their match Tuesday at Sunrise Mountain in Peoria.
Lineberry said that getting experience is important for his young team.
"I would have love to have played Tuesday," Lineberry said. "It would have been a great help for (Thursday) to have had a Tuesday match because they gain experience every single match."
Up next for the Marauders is a trip to Lee Williams on Tuesday. Their next home match is on Wednesday at 3:30 p.m. against Prescott.
Lineberry said it's hard to tell how good the Marauders are since they haven't played a match at full strength.
"I don't know how good we are," Lineberry said. "I think we're pretty good If I get a full team, I think we're going to win some more matches the overall feeling is good, better than last year."
More like this story
SUBMIT FEEDBACK
Click Below to: