Editorial: Author JA Jance should be honorary member of Chamber of Commerce
Originally Published: March 9, 2017 2:24 p.m.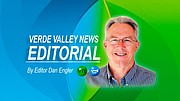 JA Jance is incapable of writing a bad book.
Her longtime series on Seattle sleuth J.P. Beaumont and Cochise County Sheriff Joanna Brady should be on everyone's list of can't-miss latest reads.
In recent years, Jance has developed a new character, Ali Reynolds, a retired TV newscaster who can't help but get herself in the middle of a deeply complex plot of intrigue. As is the case with the Beaumont and Brady series, Jance has done a masterful job of character development and perhaps an even better job of placing the reader in the community in which the story is told. She's big on identifying the key landmarks, institutions and backroads only a local would know to give her story-telling solid credibility. She puts you there. You feel a kinship to the characters in her story.
But what makes the new Ali Reynolds' series so fun is that they are based right here in the Verde Valley, complete with just about every key landmark in Sedona, Camp Verde and Cottonwood, and a little history about the days when Mingus Union High School was located up the hill in Jerome.
She's also taken on a quasi-role as Cottonwood's economic development director and Chamber of Commerce all rolled into one. A key component in the Ali Reynolds' series is one of the world's leading cyber-security companies – High Noon Enterprises – and it's located in Cottonwood.
Perhaps the computer-tech and cyber-security world should take notice of the value in locating their businesses in the Verde Valley.
Jance will give a presentation on her latest book, "Man Overboard", at the Cottonwood Library, 150 South 6th St., March 21 at 3 p.m
The Cottonwood Chamber of Commerce should show up to this presentation and make Jance an honorary member of the chamber for all of her work spreading the good word about why it makes sense to establish new businesses in the Verde Valley. Ditto for the Cottonwood Economic Development Council, Camp Verde Business Alliance and all the other local organizations dedicated to business development in the Verde Valley.
Ms. Jance may be the most valuable partner you have.
More like this story
SUBMIT FEEDBACK
Click Below to: