Mingus girls tennis improves to a perfect 3-0
Marauders down Lee Williams 6-3
Originally Published: March 9, 2017 10:52 p.m.
Mingus Union girls tennis improved their record to 3-0 on Tuesday night with a hard fought 6-3 win over Lee Williams.
Four of the six singles matches went into tiebreakers, with the Lady Marauders winning three of them in their first home match of the season. The match ended under the lights.
"I was so pleased with the improvement in play during the match, that as these matches went, under the moon, the girls kept getting better and better," said Mingus Union head coach Andrea Meyer. "They didn't choke, even the girls who wound up losing in tiebreakers, I could see their follow through get better, I could see them breathe, I could see their feet be more active, so even the girls who lost, steadily improved as they went along."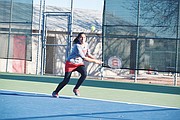 Mingus Union was also missing senior Maya Federbush, the No. 5 singles player and junior Chelsea Clark, No. 6.
Junior Emma Williams, the No. 2, senior Phoebe Chilton and Pei-Wen Yang, No. 4, lost their first set in singles. But they each came back to win their matches.
"That's three matches where we were down and those could've turned into losses but they really continued to play with a lot of heart," Meyer said. "So that continued to play as if they could win and these second sets, 6-3, 6-3, means they broke somebody's serve in there and Pei-Wen 6-0, that's a really nice way to win, is by winning those second sets, that's hard to do."
Williams won her tie breaker 10-2, Chilton hers 10-2 and Yang 10-5. Junior and No. 5 Kylie Densmore was the lone Lady Marauder to lose her tie breaker, falling 10-3.
"We won 6-3 and we won three out of the four tie breakers," Meyer said. "So that's pretty great, to be able to say that you won that many matches with that many personalities on the court under pressure this early in the season. Two of the tie breakers we won 10-2, which is a very convincing win under a lot of pressure."
Singles No. 1 and junior Talon Whiteley won 6-1, 6-4. Mingus won four of the six singles matches.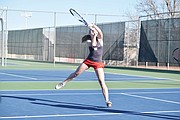 In doubles, Whiteley and Williams won 8-6 and Chilton and Yang took their match 8-2.
Up next for Mingus Union is a home match on March 21 against Marcos de Niza at 3:30 p.m.
Since their first home match was postponed due to weather, it was the Lady Marauders' home one and first on the new surface with the new amenities.
"It was wonderful to host our first home tennis match under the refurbished courts and all we have to say is thank you very much to the community and the Offield Foundation for providing the benches, the awnings, the beautiful playing surface, just all the things all the things that make us appreciative of how lucky we are to play tennis," Meyer said.
SUBMIT FEEDBACK
Click Below to:
More like this story