Mingus softball walks off with run-rule win
Originally Published: March 11, 2017 1:52 p.m.
Just two days after losing by five runs to the Badgers, Mingus Union softball pounded Prescott to gain an edge in the region title race.
The Lady Marauders (3-1, 2-1 Grand Canyon) run ruled Prescott on Thursday at home, beating the Badgers 14-2 in five innings and winning with a walk-off home run by junior shortstop/third baseman Nikki Zielinski.
"I think we played the way we were supposed to play," said Mingus Union head coach John Brown. "We lost to these guys on Tuesday and we all knew it was because we were a little bit confident, we went into the game a little bit callous and so (Thursday) they came in focused and did what they needed to do."
In the bottom of the fifth, Zielinski hit a 3-run home run, her second dinger of the game. She also hit a double.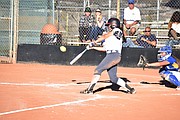 On Tuesday Mingus Union suffered their first loss of the season, 8-5 at Prescott.
"It was huge, we wanted this and it just feels great after coming back from that loss," Zielinski said.
In the first Prescott game, junior Kaycee Williams gave up seven runs and eights in four innings and senior Krista Earl gave up three runs and five hits. At home however, Williams gave up five hits and two runs in five innings in the circle.
At Prescott, no Lady Marauder had more than two hits over seven innings. In five innings at home, three Lady Marauders had at least three hits, including Williams going 3-for-3 and sophomore Maddie Bejarano going 4-for-4.
"We pitched better than we did over there, we hit better today, obviously by the score," Brown said. "Timely hits and we made adjustments to the way they were pitching (Thursday) and just confidence, not arrogance."
Zielinski was 4-for-4 with 7 RBIs in the home Prescott game.
"It was great, this team just carried it through the whole game, so it's great to end on that note," Zielinski said about hitting the walk-off homer.
Zielinski said getting another crack at Prescott right after the loss was "amazing" and "everything just fell into place like it was supposed to."
Brown said Mingus Union's ability to bounce back is a good sign.
"It's really good," Brown said, "because it shows that they can rebound quickly and that they can change course and that they can make adjustments very quickly and quite frankly I think that's because a lot of them play summer ball, travel ball and they play teams today and tomorrow and again and again and they have to make adjustments."
Mingus has now won back-to-back games in a row at home for the first time since April 2015.
The weather caused a gap off 11 days between Mingus Union's 2-1 win over Flagstaff and the trip to Prescott.
Brown said the lay off "definitely" hurt the Lady Maruaders.
"We got a little bit lazy, I'll just leave it at that," Brown said with a laugh.
Up next for the Lady Marauders is a trip to Scottsdale Saguaro on Monday, then they host Notre Dame Prep on Tuesday at 4 p.m., before heading to the Grace Haught Memorial tournament in Payson.
The win over the Badgers could mean more than just bragging rights. Early in the season, Mingus Union and Prescott (3-1, 1-1) top three in the Grand Canyon Region. Since they split the regular season games, if they tie the number of runs given up and then runs scored could come up, an advantage Mingus Union got with the 12 run win.
"This is a big deal to us, because it could potentially mean the regional championship," Brown said. "That's a good team over there, we split with them and because the score is the way it is we would win that coin flip if it came down to us two and so this was a very important game to us and it gives us momentum going into next week We got a tournament, we're going to play a lot next week and I think we're ready."
More like this story
SUBMIT FEEDBACK
Click Below to: