Arizona becoming college hoops Mecca
Originally Published: March 18, 2017 12:50 p.m.
Whether or not Arizona's lone 2017 NCAA men's basketball tournament representative makes it that far, the Grand Canyon State will soon be the center of the college basketball universe.
This year Arizona will finally host the Final Four, this April at University of Phoenix Stadium in Glendale. This is the west's first Final Four since 1995 when the now destroyed Seattle Kingdome hosted it.
Phoenix bid for the Final Four in the 2012 to 2016 back in 2008 but lost.
However by getting it this year, Arizona could have a home state team in the Final Four a UA earned a No. 2 and is the pick of many to make it to the Valley of the Sun.
Future UA president Robert C. Robbins said he hopes to see the Wildcats in the Final Four and former U.S. president Barack Obama picked the UA to go to the national semifinals.
At press time Arizona was 1-0 in the tournament, enjoying the No. 2 seed in the West Region, meaning the UA's road to Phoenix goes through Salt Lake City and San Jose after winning the Pac-12 tournament the week before.
"You earn your seed," said UA head coach Sean Miller at Wednesday's press conference. "You earn your location. And I'm sure that the play of our entire season in the Pac-12, what happened this past weekend, allowed us to be here in Salt Lake City and have a seed like the No. 2 seed. We love being here in Salt Lake. It's in the footprint of the Pac-12. Our players have been in this city many times. Our fans are able to travel here very easily. And really for our own team, logistically, we're here in an hour flight, which a lot of teams in this tournament don't have that."
Regardless of how far Arizona goes, the season was already a great success. UA won 30 games before the NCAA tournament, tied for the Pac-12 regular season championship and won the league's tournament title.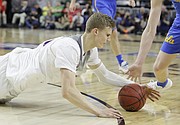 Or as Bill Walton would say, "champions of the Conference of Champions."
They did despite lost five-star recruit Terrance Ferguson to professional basketball in Australia and five-star recruit Ray Smith to retirement after he tore an ACL again.
Plus senior Talbott Denny suffered a season ending injury before the season and junior point guard Parker Jackson-Cartwright missed a chunk of the season with a high ankle sprain.
Allonzo Trier, who is projected as a first round pick by NBADraft.net, missed the first 19 games of the season with an indefinite NCAA suspension for accidentally having PEDs in his system. That's a lot longer than the one-game indefinite suspension that Duke's Grayson Allen got.
With all that damage to the roster, when Arizona played Gonzaga in December, the Wildcats only lost by seven points. UA had to resort to playing sophomore walk on Paulo Cruz regular minutes.
Actually this could be the start of a golden era of college basketball in Arizona. Whether or not the fates choose to award the Grand Canyon State with one of its teams in its first Final Four, things are looking great for Arizona.
UA's recruiting class is ranked fourth by ESPN and includes Deandre Ayton, arguably the best player in the country. So the future is bright for the Wildcats regardless of how many of its 2016-17 players they lose to the NBA.
However, their I-10 rivals ASU are experiencing a renaissance under head coach Bobby Hurley. ESPN ranks their recruiting class as 26th in the country and Sun Devils fans are dreaming of regular March Madness appearances too.
Going north, NAU had a down season this year but has enjoyed record success under their coach Jack Murphy. In 2014-15 season, the Lumberjacks set a school records for wins in a season (23) and postseason victories (4).
Before long the Lumberjacks could be dancing too.
Not long after a $30 million renovation, McKale Center at the UA is looking like it can host the NCAA tournament again. It hosted it in 1979, 1987, 1989, 1991, 1997, 2000, 2005 and 2011.
Finally, there's Arizona's newest Division I team Grand Canyon, which looks like it is primed for success. The Lopes' four-year probation period ends this season after transitioning from NCAA Division II to I and can play in the Big Dance next year.
It looks like Grand Canyon fans are ready. Louisville head coach Rick Pitino, praised the Antelopes' fans after visiting GCU this season.
"In college basketball, my 40-plus years, (that) was the toughest crowd I've ever faced," Pitino said. "Awesome. You got something special here, really special. When you have this type of enthusiasm, it made us a much better team tonight. Whether we go to Duke, Kentucky, nothing was as tough as that environment tonight."
With the way things are going, is not madness to think that someday soon Arizona could have four teams in an NCAA tournament.
More like this story
SUBMIT FEEDBACK
Click Below to: