3 Kings Kasbar sets March 31 opening in Old Town
Originally Published: March 23, 2017 12:59 p.m.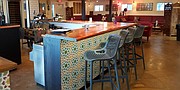 3 Kings Kasbar, which is part of the Epiphany on Pimacomplex located at 102 E. Pima St. in Old Town Cottonwood, will have a grand opening Friday, March 31, 5 p.m.
Opening night events include a performance by belly dancer Carrie Carrie Konyha and live music throughout the evening.
3 Kings Kasbar will specialize in craft cocktails and tapas/world cuisine and lounge atmosphere with a spacious outdoor patio, to complement the Epiphany on Pima art gallery and interactive art and events.
The business hours will be Wednesday through Friday, 4-11 p.m., Saturday 11 a.m. to midnight, and Sunday 11 a.m. to 5 p.m.
The owner/operator, Denise Kelly, said she had friends in the wine business in Old Town and fell in love with the historic and small-town feel of the neighborhood.
"My business experience has always been in service and sales," said Kelly. "I have an art background as well."
Kelly currently has eight employees, including Chef Justin Harju, and hopes to eventually grow the business to be able to provide 20 jobs.
Kelly said 3 Kings Kasbar will have a dog-friendly patio and she expects the business' lounge atmosphere and decor will make it a unique offering to Old Town.
More like this story
SUBMIT FEEDBACK
Click Below to: