Camp Verde girls track and field successful at Sedona Friendship Invitational
Originally Published: March 23, 2017 3:13 p.m.
SEDONA — Camp Verde High girls track and field added more potential state qualifiers and had personal bests at the Friendship Invitational at Sedona Red Rock on Wednesday, especially their underclassmen.
"The meet went great," said Camp Verde head coach Mike O'Callaghan.
Senior Shayla Campbell-Kilburn qualified automatically for state in the discus. She finished second with a personal record throw of 97-06.
Campbell-Kilburn was also sixth in the shot put with a PR of 28-09.50 and senior Elsa Davison also had a PR with a throw of 20-05.00.
Junior Bryanna Truett provisionally qualified for state in the triple jump. It was a personal record by 11 inches. She was fourth with a leap of 30-05.50.
"Which is really nice and that will get her to state because it's only three inches behind the automatic qualifying mark," O'Callaghan said.
Senior Alana Neary was sixth with a triple jump of 28-08.00.
In his first meet triple jumping, sophomore Chaeli Hoehn won the Frosh/Soph division with a leap of 29-10.00.
"All three of our triple jumpers and that would include Alana Neary, should make it to state, based on what they're doing and there's no reason why they all can't be over 30, 31 feet because we've got another five and a half weeks to go before state," O'Callaghan said. "So they should be up in the 30, 31 foot range without a problem."
Truett took fifth in the High Jump with a mark of 4-06.00.
Junior Karyme Guzman was ninth in the 400 meters with a time of 1:51.95.
The meet was against a number of upper division teams like Flagstaff and Mingus Union.
Sophomore Eliana Paniagua took third in the Frosh/Soph 800 Meters. She was also fourth in the Frosh/Soph 1600 Meters with a PR of 6:41.35.
Neary was third in the 100 hurdles with a time of 18.53, while Truett was fifth with a PR of 19.15.
Neary took fourth in the 300m Hurdles, while Truett was eighth.
The meet was Camp Verde's first after spring break and their marks could improve.
"With some of them you can see the lack of work on spring break, they're a little rusty," O'Callaghan said. "We had a group of 6-8 that were there regularly at spring break and you can see it in their performances, they're still crisp, they're still sharp The ones that missed, it's going to take a couple weeks to get them back, back into shape."
O'Callaghan mad sure to point out he wasn't frustrated.
"It happens, they're high school kids and I totally understand," O'Callaghan said. "I'm not going to fight family because it's important. My kids never won the perfect attendance away because we would do things."
Up next for the Lady Cowboys is the ALA Invitational on March 28 at South Mountain in Phoenix. Their next meet in Verde Valley will be the Red Rock Invitational on April 1 at Sedona Red Rock.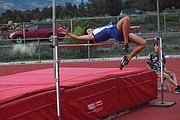 "I think once we get going, we'll end up with a nice group of kids going to state," O'Callaghan said. "I think we can have a few more than last year, which will be good, it's always nice to just keep building the program and having the kids improve."
More like this story
SUBMIT FEEDBACK
Click Below to: