Mingus Union girls track & field recovers from injuries enough for Sedona success
Originally Published: March 23, 2017 4:16 p.m.
SEDONA — Still recovering from injuries, Mingus Union girls track and field enjoyed success at the Friendship Invitational at Sedona Red Rock on Wednesday.
Sophomore Meg Babcock (5:49.37) won the 1600 meters, while junior Hannah DeVore (49.92) won the 300 hurdles and the 4x100 team was first. The team was junior Katelyn Prouty, Hannah DeVore, senior Mackenna Jung and senior Holly Johnson and finished in 52.49.
The 4x100 relay team also earned an automatic qualification for the state meet.
"Impressive for the girls, our 4x1 got an automatic qualifier," said Mingus Union head coach Yancey DeVore. "Some of the girls did really well in the sprints and again, this is a meet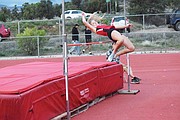 where we got a lot of our younger kids in so it was nice to see them competing."
In the 100 meters, Johnson finished second in 13.55, junior Katelyn Prouty (14.12) was sixth, senior Mackenna Jung (14.38) seventh and senior Maria Meacham (14.50) was eighth. Freshman Zoey Arwine (14.45) was third in the Frosh/Soph heats.
In the 400 meters, senior Jalen Ebert, in 1:08.08, was fourth.
She was second in the 800 meters, finishing with a 2:43.30.
Senior Rachel Valentine (6:07.90) was third in the 1600 meters.
In the Frosh/Soph 100 hurdles, freshman Denise Ulibarri was second in 18.69. Also, she was fifth in the Frosh/Soph 300 hurdles, finishing in 57.81.
Sophomore Summer Scott (24-01.00) was fifth in the Frosh/Soph shot put.
"We're still kind of developing our throwing corps, our younger throwers, we have quite a few of them, both shot and discus, so they continue to work hard and make improvements," Yancey DeVore said.
Senior Maria Meacham was fourth in the high jump, with a leap of 4-06.00, a personal record.
In the long jump, Hannah DeVore took second with a PR of 15-03.50. Freshman Olivia Grasso was fourth in the Frosh/Soph with a long jump of 13-00.00.
In the triple jump, Katelyn Prouty (30-04.50) was fifth and Maria Meacham (28-08.00) sixth.
The Lady Marauders are not at full strength though, missing senior Auli Hanks, who made it to the state meet last year.
"We're kinda slow moving into the season, partly because we've had some key injuries early on," Yancey DeVore said.
Johnson and Hannah DeVore have also been injured and Yancey DeVore doesn't think they back to 100 percent yet.
"At least Holly and Hannah are out there and able to compete and hopefully Auli can get better," Yancey DeVore said.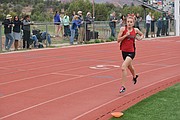 Up next for the Lady Marauders is the 77th Annual Nike Chandler Rotary Invitational in Chandler on Friday and Saturday.
Their next meet in Verde Valley is the Mingus Invitational on April 7.
"We just need to continue to build on that and get better and get people healthy," Yancey DeVore said.
More like this story
SUBMIT FEEDBACK
Click Below to: