Streck, Alexander, relay teams lead Mingus Union boys track and field at Sedona Friendship Invitational
Originally Published: March 23, 2017 3:39 p.m.
SEDONA — Mingus Union boys track and field had a successful outing at the Friendship Invitational at Sedona Red Rock on Wednesday, especially their underclassmen.
"The boys were really good, we saw some PRs with our throws and the sprinters did a good job," said Mingus Union head coach Yancey DeVore.
Sophomore Kendrew Streck won the shot put with a personal record throw of 44-05.50 and took second in the discus with a 127-03, also a PR.
DeVore said he did a good job.
"It now puts him in a good position for state," DeVore said. "He continues to improve, which is good."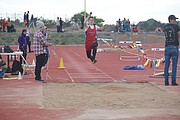 Mingus won the 4x800 Relay, with Keegan Cain, Jon Ulibarri, Dallin Gordon and Ryan Alexander with a time of 9:00.85.
"Our 4x4 and 4x8 relays looked pretty good," DeVore said.
Senior Ryan Alexander set a personal record in the 3200 meters with a time of 11:02.94.
Senior Jordan Pollock was seventh in the 100 meters, finishing in 13.06. In the Frosh/Soph heats, sophomore Colby Fanning took second in 12.54.
Junior Jon Ulibarri (56.15) was fifth in the 400 meters. Fanning won the 400 in the Frosh/Soph with a personal record mark of 57.34.
Freshman Lucas Doerksen (2:15.15) won the Frosh/Soph 800 Meters and freshman Joseph Calhoon was fifth, with a time of 2:27.64.
Sophomore Cody Wager, was second in the Frosh/Soph 1600 Meters with a time of 5:22.03.
"This is a meet that we like to get the younger kids in," DeVore said. "I'm really proud of the younger kids."
Sophomore Nick Lodico was second in the Frosh/Soph 110m Hurdles.
In the 300m Hurdles, senior Jordan Pollock (50.61) was fifth.
The Marauders took second in the Frosh/Soph 4x400 Relay with Trent Miller, Doerksen, Tyler Koch and Gordon.
"For the boys our middle distance is really strong, I'm impressed with what they're doing From the 400 to the 16, we're looking really strong," DeVore said.
Sophomore Nick Bloniarz was second in the Frosh/Soph High Jump.
In the Frosh/Soph Long Jump, sophomore Isaac Utter was third with a 16-01.00 PR.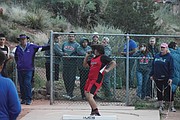 Gordon was fifth in the Frosh/Soph Triple Jump, with a 32-04.25.
Up next for the Marauders is the 77th Annual Nike Chandler Rotary Invitational in Chandler on Friday and Saturday.
"Our main middle distance runners, it was a little different meet for them because they're going to be running on Friday, some positive things out of that
Their next meet in Verde Valley is the Mingus Invitational on April 7.
"We just need to continue to improve and continue to get better," DeVore said. "We're still working on jumps and the sprints as well."
SUBMIT FEEDBACK
Click Below to:
More like this story