Mingus Union baseball beats Saguaro 11-10
Marauders go to Bradshaw Mountain next
Originally Published: March 25, 2017 1:29 p.m.
Mingus Union baseball held on to beat Saguaro on Friday to win their eighth straight game.
The Marauders (12-2) beat 11-10 despite giving up five runs in the fifth inning.
"Well when we were up 9-2 it was looking good and then Saguaro just did a great job of staying in the game," said Mingus Union head coach Bob Young. "I thought their kids battled and they were by far the best hitting team we've seen all year. I mean they hit the ball well."
Saguaro had 11 hits, six of the extra base variety.
Mingus Union opened the game with six runs in the first and three in the second.
"We started out great, our offense can score 11 runs, that's pretty damn good," said Mingus Union pitcher/infielder Tyler Kelly. "We had like one error on defense, so that was a lot better defensive game than we've been playing."
Kelly said he thought 11 runs in a game is a good offensive showing, though Young would like to see more consistency.
"We made some mistakes defensively, that's what we gotta get fixed, so we'll work on that," Young said. "And you know we had nine runs after two innings and we got two runs the rest of the game, we've got to do a better job."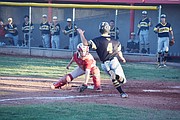 The Marauders popped out on 3-1 counts a few times. Young said he thought that the long innings may have affected their concentration.
"I think we get ahead and lose focus at the plate," Young said. "So that comes back to bite ya."
Saguaro made it deep into the Lancer Hardball Classic in Tucson earlier this month. Kelly said they're a tough team.
Mingus Union hasn't lost since March 9.
"We're playing pretty good," Kelly said. "Besides today, our defense hasn't been the greatest, I mean we're a good defensive team, we just haven't been playing like it."
Up next for the Marauders is a trip to Bradshaw Mountain on Tuesday. Then on Thursday they return the favor and host the Bears at 3:45 p.m. With a 3-0 record, Mingus Union sits atop the Grand Canyon Region early on.
On Monday the Marauders remained perfect in the region with a 7-6 win over Coconino. Junior pitcher/infielder Andrew Kulis went 3-for-4, had 2 RBIs, scored a run and had a double.
Then on Tuesday Mingus Union beat Cactus 11-1. Kulis went 3-for-4, had 2 RBIs and hit a triple.
"We went 3-0 this week, I thought Saguaro and Coconino especially were good teams," Young said. "We had two one-run games, so you win one-run games you're happy, it's better than losing one-run games. We're still making mistakes but we're finding ways to win, so it's good."
More like this story
SUBMIT FEEDBACK
Click Below to: