Verde Valley's Adult Education: The haves and the have-nots
By
Bill Helm
|
BillHelm42
Originally Published: March 28, 2017 4:10 p.m.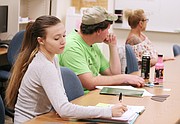 VERDE VALLEY– Neither Yavapai College's Adult Basic Education and the Camp Verde Adult Reading Program and LEARN Center charge their students for the opportunity to earn a GED or learn English.
But one of those programs will likely lose its state subsidies in July.
But that doesn't mean that the Verde Valley will be down to one of these programs. Not necessarily.
"Doug is putting the plan together," says Alice Gottschalk, president of the board for the Camp Verde Adult Reading Program and LEARN Center. "He's an educator. He really cares about the students."
After 33 years' with the Winslow Unified School District, Doug Watson retired as the district's superintendent.
Prior to his five years leading WUSD, Watson served as teacher, assistant principal, principal, then assistant superintendent.
A little more than a year ago, Watson took over the director position at CVARP. Now, fundraising will be a part of Watson's vocabulary.
State monies for Adult Education will be available in the coming fiscal year - $180,000, in fact – but based on a minimum of 100 students served by a program.
It's Watson's belief that the state of Arizona wants to "get rid of entities who serve fewer than 100 students."
"We don't have 100 students," he said. "We serve 75."
Watson and the CVARP board are in the process of figuring out ways to fund their program beyond June 30.
"It's scary for me," Gottschalk says. "But the key to this is I'm surrounded by good people. We're all working toward helping the community."
In-kind contribution
Though it's likely that Yavapai College's ABE program would qualify for state funding, under the new RFGA – Request for Grant Application – the "provider's parent organization must provide a minimum of $45,000 in in-kind contribution," Lefever says.
The minimum award amount is $180,000 for providing services for a minimum of 100 students. But programs are also expected to spend 10 percent of grant money on professional learning and another 10 percent in Integrated Education and Training classes.
Yavapai College's ABE program has submitted the grant application for fiscal years 2017-2018 through 2019-2020. Says Lefever, the program should "hear back from the Arizona Department of Education sometime in June."
"In the past, grant funding for adult education has been on an annual basis," Lefever says. "This is the first time the state has offered a multi-year grant award and the first time in several years that the process has been opened to all potential service providers."
A change in partnership?
"We send students to [CVARP]. And [CVARP sends] students to us," says Craig Lefever, program director for Yavapai College's Adult Basic Education.
"Our two programs have worked closely for many years. We have shared students, resources and professional learning with one another. I sincerely hope this partnership will continue in the future, but I can't say specifically how this will happen until we know if and how the college's adult education program will be funded in the coming fiscal year," Lefever says.
Though when the Camp Verde Adult Reading Program is no longer able receiving state funding, Lefever anticipates that the two programs will not be able to work as closely as they are accustomed.
"We can't use any of our grant money for students who are Prop 300 eligible," says Lefever.
Proposition 300 is slang for Arizona Revised Statute 15-232 – approved by voters in November 2006 – that requires that "only United States citizens, legal residents or persons otherwise lawfully present in this country are eligible to participate in adult education classes offered by the Arizona Department of Education."
When CVARP loses its state funding, the program will be able to solicit students whether or not they have proof of legal U.S. residence or citizenship.
But the program will need to find a way to fund them.
Even the Yavapai College Adult Basic Education Program, which serves more than 500 students annually, is waiting to see whether it qualifies for state monies.
"The Department of Education decides who to fund, and how much," Lefever says. "If we don't get the grant, there will be someone else who would [get the grant]. There still would be an Adult Ed provider."
More like this story
SUBMIT FEEDBACK
Click Below to: