Camp Verde baseball loses to Payson, beats Glendale Prep debuts at No. 11 in season's first rankings
Cowboys head coach Will Davis encouraged by Camp Verde's loss at 3A Payson, frustrated with 10-0 win at Glendale Prep
Originally Published: March 30, 2017 2:55 p.m.
Camp Verde High baseball sits at No. 11 in the first AIA rankings of the season after a curious last couple of games.
The Cowboys (16-2) beat Glendale Prep 10-0 on Tuesday and lost 12-9 at Payson on Friday but Camp Verde head coach Will Davis was happy about the loss and not satisfied with the win.
At Glendale Prep, the Cowboys scored in every at bat except the fourth inning, putting up 3 runs in the fifth and sixth innings to get the mercy rule win.
"Well we won easily but didn't play our best, made some errors, hit way too many pop flies, so we gotta clean that up," Davis said.
Against Payson, who would end up No. 3 in the 3A rankings, Camp Verde fell behind 12-1 after three innings but scored 8 runs in the fourth.
"Saturday we played really good," Davis said. "We played great that day, it was just another very good team and so 12-9 I left that game completely content and happy with the way we played. 10-0 I left very upset with the way we played. So a lot of the times we play to the competition's level for some reason. So we gotta find a way to not do that anymore."
Against Glendale Prep, senior John Castillo was 4-for-4 with 3 runs. Senior Rafael Zapata had a run, an RBI and a double. Senior Wyatt Howe picked up the win after pitching 4 innings, with 4 hits and 5 strike outs.
"We've been playing hard," Zapata said. "(Tuesday) was a little rough game, we weren't really there 100 percent but I'm hoping we'll focus the next couple of games and win them."
Saturday's game was the first time the full strength Cowboys took the field after players like Zapata (broken hand) missed time with injuries.
Davis said he was very impressed with the defense.
"We hit it great too, we looked very solid offensively, so I was pretty happy," Davis said. "They had two kids both throwing low to mid 80s, which was great for us to get a chance to see and to put nine runs up on that was even better."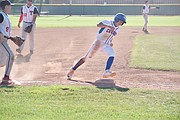 Zapata and senior Zach Wester led the way with 2 RBIs each against the Longhorns. Zapata also had a double.
Senior Carson Zale lasted 2.1 innings, after giving up 9 hits and 6 earned runs. Senior Darren Franklin pitched 3.2 innings, giving up 1 hit and no runs, striking out 3.
Zapata said after working hard, he's been able to overcome an early slump when he came back. He also said the Cowboys can be really good now that they're at full strength.
"I feel like we're going to be really successful," Zapata said. "We're a strong team, we've all played together, we have chemistry together."
Davis said they're better than 11th. For example, the Cowboys beat No. 7 Kingman Academy 11-3 and 5-4.
"I think we're better than the teams in front of us, we beat Kingman Academy twice easily and some how they're ranked seventh but that is what it is," Davis said.
On Friday Camp Verde travels to Sedona to face rival Red Rock at 3:45 p.m. The game was originally schedule to be played in Camp Verde but was switched to Sedona because the Scorpions are hosting a track and field meet on April 18, when the Camp Verde/Red Rock game in Sedona was originally supposed to be played. Instead, on April 18 the Lady Cowboys will host the Scorpions.
Camp Verde's next home game is April 4 against Paradise Honors at 3:45 p.m.
Camp Verde, who is 6-2 in power point games, does not have a lot of margin for error.
"Every game matters from here on," Davis said. "The thing with the real rankings, AIA 365, they don't count any of the tournament games, so right now all they're ranking us on is who we played regular season with six bad teams that we run ruled and two good teams that we lost both to, so that's why they have us there."
More like this story
SUBMIT FEEDBACK
Click Below to: