Commentary: Camp Verde model may be best to keep Clarkdale Library alive
Originally Published: March 30, 2017 1:31 p.m.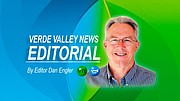 The ongoing debate over the future of the Clark Memorial Library is a classic example of the ever-growing conflict of traditionalism in a non-traditional world.
Clarkdale Mayor Doug Von Gausig didn't make a lot of friends among traditionalists late last month when he said most of what people could formerly find only in libraries, they can now find on their smart phone. His comment surely rubbed many folks the wrong way, but there is a lot of truth in his words.
Let's hope libraries never go the way of phone books and compact discs, but their future is likely more linked to digital resources than it is to rows and rows of book shelves.
In Clarkdale, the primary question on the table is if the community library is a vital function of the town government. Traditionalists predictably will argue it most definitely is. But there is ample evidence that good community libraries exist and even thrive without being an arm of the town government or exclusively reliant on municipal funding.

There was talk Tuesday, for example, that Clarkdale should explore the Sedona model of having a privately funded public library. In theory, it sounds good but does Clarkdale have enough deep pockets to replicate the Sedona model?
A more realistic option would be something similar to the Beaver Creek Public/School Library, which is one of 13 libraries in the Yavapai County Free Library District.
Or, perhaps Clarkdale should explore a joint library venture with Yavapai College, which already has a well-equipped library and it exists in the town limits.
But more than anything, there needs to be evidence that the Clark Memorial Library is a vital resource. Currently, it is not the community library of choice for most of the town's residents. Of the current 15,134 card holders at the Cottonwood Public Library, 1,140 of those patrons live in Clarkdale. By comparison, only 605 Clarkdale residents claim the Clark Memorial Library as their "home library."
Further, there needs to be some evidence that folks in Clarkdale are willing to help foot the bill if the town decides to stay in the library business.
Helping-hand organizations to make ends meet are common for municipal libraries. Cottonwood, for example, has its "Bookmarks" group. Camp Verde has had as many as three different citizen groups dedicated to the building, staffing and operation of its new library. Today, two of those groups -- the Camp Verde Library Endowment and Friends of the Camp Verde Library – are still going strong.
As for the former Clarkdale Library Advisory Board, its twice-annual fund-raising events only scratched the surface of the fiscal realities of making a public library a vital community resource.
Perhaps the best models for Clarkdale to emulate are those affiliated with the new Camp Verde Library. The Concerned Citizens for Camp Verde Library, Camp Verde Library Endowment and other benefactors raised and contributed more than $1 million for the town's new library.
With the new library completed and now open, the Concerned Citizens group has evolved into the Friends of Camp Verde Library, an incorporated 501c3 non-profit organization that has taken on the task of raising money for projects not funded by the town. In addition to the "Friends," the Camp Verde Library Endowment group is still active and very close to its $500,000 goal as a continual growing endowment for the future of the library.
The "Friends" organization in Camp Verde has grown to about 100 members with membership levels that range from $6 to $1,000 a year.
The Camp Verde "Friends" sell used books, DVD's, CD's, and audio books daily in its second floor "Book Nook," generating about $200 a week for the library.
In essence, the Camp Verde model is one that clearly recognizes that staffing and operation of a library is not the exclusive responsibility of the town government. The folks in Camp Verde recognize the fiscal limitations of their town and are aggressive and creative in filling the gaps for the sake of having a vital community library.
It's always about the bottom line. In Camp Verde, the community has bought into a belief system backed up with people who are willing to put their money where their mouth is.
You can't be more traditional than that.
More like this story
SUBMIT FEEDBACK
Click Below to: