College bound Mabery and Earl lead Mingus softball
Originally Published: March 30, 2017 3:53 p.m.
Finally playing together in high school, Mingus Union softball's college bound battery is a big reason for their turn around.
The No. 9 Lady Marauders (13-4) have more than doubled last year's win total already. They were 6-20-1 in 2016.
This season is the first in high school that long time teammates Morgan Mabery and Krista Earl have played for Mingus Union together. Both are headed to college softball next year.
Mabery signed with South Mountain Community College in Phoenix and Earl with Cairn University in Pennsylvania.
"Oh that's a big deal for them, they've been fighting for that for a long time," said Mingus Union head coach John Brown. "Krista's been pitching since she was 8 years old and she had an injury last year that kept her out of the season. For her to be able to find a way to a four-year school with a scholarship for pitching is amazing. Morgan is just a fighter, she's been battling forever and she found a good home at South Mountain because the coach is a catcher and so she's going to help her get to the next level after that. Both of those kids have worked hard since they were like 8 years old."
Mabery, a senior captain, catcher, infielder and outfielder, said Cougars head coach Christa Pfeninger is a big reason why she picked South Mountain. Pfeninger was a catcher at University of Oklahoma, Phoenix College and University of Utah.

Mabery met Pfeninger at a camp where she was a catching instruction a couple years ago.
"I've gone to a ton of camps and seen a ton of catching instructors and I loved her," Mabery said. "She's intense and she's everything I wanted in a coach and I'm looking to go to a four-year, so I figured that she was the best option for me to get me there. I saw her again about a year ago and she saw me play and approached me and offered me. I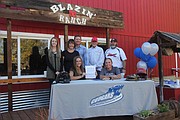 went down to the school and it was my favorite one in Phoenix so I just went down there and liked it and I figured that that would be the best place for me."
Mabery and Brown think Pfeninger background as a catcher will help get her to a four-year school after South Mountain.
"It helps a ton, I mean I've done work outs with her and everything else," Mabery said. "So she's amazing, she's a great catcher and having her as my coach will help me a lot in the long run."
Earl had been interested in Cairn for a while. It is a Christian, NCAA Division III with around 1,000 students.
"I was actually looking at that school really early on in my college search and I contacted coach and I never heard back from them and then like maybe a year later, the coach contacted me and I got super excited and fell in love with the school," Earl said. "It's a Christian university, it's exactly what I wanted to go to."
Earl is fifth in the state in ERA, sixth in wins with 8 and strike outs with 54.
Brown said scholarships to four-year schools are rare.
"It's very rare, for Mingus there has not been a lot, in the last few years especially," Brown said. "A four-year school is a big deal and I firmly believe Morgan will end up going to another school after she's done with her junior college and it's just the start, we've got a lot of young kids that have been working hard all year long and that's what they're shooting for: college scholarships."
Mabery is batting .462, has an on base percentage of .517, 16 RBIs and 22 runs. Earl has an ERA of 2.01 and 54 strike outs in 45.1 innings.
Both came back from major injuries.
"Morgan came back from an ACL, missed her sophomore year Krista came back from a labrum tear in her shoulder last year and for both of them to back at the top of their game already is impressive," Brown said.
An ACL injury is especially tough for a catcher but Mabery didn't give up.
"It was hard," Mabery said. "Most people told me that I couldn't do it because usually after you have an ACL replacement it's hard to squat especially, most people can't squat fully all the way so when I was doing rehab, that's all I worked on because that's all I wanted to do, is be a catcher, so it was hard and especially with everyone telling I couldn't do it but I'm a much better catcher than I've ever been so I think it's helped me in the long run."
Earl has been Mingus' ace since her freshman year, except for when she missed last season with the shoulder injury.
"It was super tough at first but now that I'm really getting into it and I have a super supportive and a team and supportive coach and it really helps and the Lord has blessed me through everything that I've gone through," Earl said.
Mabery and Earl, who also play together for the travel team the Verde Valley Heat with Brown, have been teammates a long time.
Earl said Mabery is an "awesome catcher" and sets up for her perfectly.
"I've played with her since I was about eight and I actually used to pitch and she knocked me out of my spot so I started catching for her," Mabery said. "She's awesome, we've both gone through some injuries and this is actually our first year in high school being able to pitch and catch for each other, so we're super happy because I got hurt sophomore year, she got hurt junior year so it was our first year together and she's awesome and we've become really good friends and she's an awesome pitcher and we're both getting to where we're going."
More like this story
SUBMIT FEEDBACK
Click Below to: