Cowboys to compete in Division IV state track and field meet
'Nate obviously is an easy choice to do well'
Originally Published: May 4, 2017 1:39 p.m.
Led by junior Nate Schultz, Camp Verde High track and field will look to shine at state this weekend.
The Cowboys will compete in the Division IV state championship at Mesa Community College starting at 11:30 a.m. on Friday and 1 p.m. on Saturday.
Schultz will compete in triple jump, long jump and 300m hurdles. He is ranked 10th in the hurdles, sixth in the long jump and third in the triple jump.
"Nate obviously is an easy choice to do well," said Camp Verde track and field head coach Mike O'Callaghan. "Last year at state when we went he jumped lights out in the triple jump. He knows what it's like to be there, he knows what it's like to compete there, so he's gonna go and just be ready to compete, just be ready to jump."
Junior Mathew Wade is competing in the discus, where he is ranked No. 15.
"Mathew in the discus might have an opportunity, but again he's gonna have to add quite a few feet to his throw but discus is the kind of event where if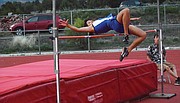 you just get that rotation and follow through all right, you can add lots of feet to your best throw," O'Callaghan said.
Sophomore Christopher Holdgrafer will be in the triple jump, long jump and 110m hurdles.
"I feel pretty good, of course I have to get all my steps down, techniques down before hand because there is going to be some really good competition down there," Holdgrafer said. "Other than that I feel very confident, along with everyone else that's going."
Holdgrafer is ranked No. 16 in the triple jump.
"I was surprised for triple jump because I've never really done triple jump before so it was a nice thing to do," Holdgrafer said. "I qualified for state last year in hurdles, so I expected that already."
Senior Alana Neary is competing in the triple jump and 300m hurdles, junior Bryanna Truett in the triple jump and high jump, sophomore Chaeli Hoehn in the triple jump and senior Shayla Campbell-Kilburn in the shot put and discus. Also the girls 4x800 relay team will compete
"On the girls side, I think the 4x8 relay will run better at state," O'Callaghan said. "They got to state last year and went in ranked 18th and ended up 11th and it's pretty much the same team as last year. Getting that experience does help. You have the jitters before the race, but it's a different way because there's more excitement about the race and the competition as opposed to being overwhelmed and saying 'oh my god, I made it to state' because you've been there, you know what your job is there and I think the girls 4x8 should run well."
The 4x800 relay team of Eliana Paniagua, Hoehn, Truett and Edith Paniagua is ranked No. 16.
Eliana Paniagua said she is very excited about state, even though her shins have been hurting her all season.
"I feel like all in all we'll be really successful and it should be an unforgettable experience like it is all the time," Eliana Paniagua said. "It's just nice to have the opportunity to go."
She said the relay team is all aiming for personal records at state.
"Our relay team is actually really good this year, it was good last year," Eliana Paniagua said. "We barely made it into state last year but we passed a lot of people last year and we're prepared to get to the top 10."
The forecast has a high of 106 on Friday and 95 on Saturday for the Valley of the Sun.
"Anytime it's that hot you gotta be concerned," O'Callaghan said. "The key is going to be to make sure they hydrate this week, get in the shade and not be wandering all over the place on Friday. You keep yourself as cool as you can in weather like this, so we'll have the canopy and some ice."
Holdgrafer thinks the Cowboys can do well, especially his jumping mate Schultz and the relay team.
"I believe that Nate could wind up as one of the top three for triple jump, he's also well standed in hurdles," Holdgrafer said. "For the 110s for me, it's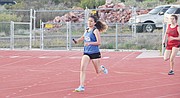 kind of a close race, there's a lot of people there that are just a couple milliseconds off, so if I can PR and do well, I should end up in finals, hopefully in fifth or higher Alana, she's doing really well, I don't completely know her standings right now and the 4x8 of course they're gonna run their hearts out, it's probably going be nice."
SUBMIT FEEDBACK
Click Below to:
More like this story