Marauders to compete in Division II track and field state championship
'I feel good about the kids that are out there'
Originally Published: May 4, 2017 2:46 p.m.
Mingus Union track and field probably won't compete for the team title, but has athletes who can make their mark at state this weekend.
The Marauders will compete in the Division III state championship at Mesa Community College starting at 11:30 a.m. on Friday and 1 p.m. on Saturday.
"I feel good about the kids that are out here," said Mingus Union track and field head coach Yancey DeVore. "We got some really good athletes out here and we'll got to state and put our best foot forward and so we'll see how it shakes out. I'm just really proud of these kids for working so hard to get here."
Junior Hannah DeVore leads the Mingus Union girls at state. She automatically qualified for the state meet in five events, the long jump, the 100m hurdles, the 300m hurdles, the 4x100 relay and the 4x400 relay.
She won't compete in the long jump at state.
"Well I'm qualified automatically in five events, so I could do any of the five but two of them are relays and I didn't want to let my team down so I decided to do the relays over long jump and long jump I'm not consistent," Hannah DeVore said.
The long jump is a new event for Hannah DeVore but she is ranked No. 11 in the state in it and won it at Alhambra Last Chance with a personal record of 16-01.50.
"I just did long jump this year and I only practiced it twice, so I didn't really develop my skills that much, so I'm not consistently jumping that well," Hannah DeVore said.
She is ranked fourth in the state in the 100m hurdles and No. 7 in the 300m hurdles.
Last year at state she finished eight in the 100m hurdles, third in the 300m hurdles, setting a personal record and the 4x100 relay team took fifth.
After starting the season injured, Hannah DeVore said she is back to 100 percent.
"I'm feeling pretty good, I recovered from my injury well," Hannah DeVore said. "I've been having a lot of fun so I'm excited for it."
Sophomore Meg Babcock comes into state fresh off setting a personal record at Alhambra in the 800 meters. Junior Katelyn Prouty set a PR in the triple jump at Alhambra too and senior Maria Meacham (triple jump) is also going.
"I don't think we'll win because our team isn't that big but we have some runners that are really strong in their events I think that we'll do good in each of our events," Hannah DeVore said.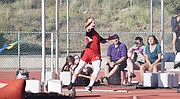 On the boys side, senior Ryan Alexander will run the 800 and anchor the 4x4000 and 4x800 relays.
"I'm feeling great," Alexander said. "I'm so excited for state this year."
Sophomore Kendrew Streck made it in the shot put and discus and junior Jonathan Jung is also competing on his own.
"We actually have a pretty diverse team, we got one thrower, one jumper, a lot of people in the running events, it's nice," Alexander said. "As a team I don't think we'll win, we don't have enough guys but I think we'll do really well."
On Friday Division III and IV compete and on Saturday all four divisions will be out there.
"It's a lot bigger obviously because all the teams are there, just like the atmosphere is really fun and exciting, so it's a really great meet to go to because it's fun to watch, it's fun to run in and so it's just really exciting and fun to be at," Hannah DeVore said.
SUBMIT FEEDBACK
Click Below to:
More like this story