Verde Valley Archaeology Center consults on BBC/PBS program
By
Bill Helm
|
BillHelm42
Originally Published: May 6, 2017 3:36 p.m.
CAMP VERDE – It all started in 2014 when a London film director working on a project for the British Broadcasting Company and a Washington, D. C. Public Broadcasting System station called the Verde Valley Archaeology Center to view a restored film depicting Billingsley Hopi Dancers.
The original 16mm color film, which had been donated to the center by a retired antique dealer, was shot at Second Mesa of several of the dances, according to Ken Zoll, executive director of the Verde Valley Archaeology Center.
At 6:30 p.m. May 31, Zoll will show a 20-minute segment of the original 54-minute film at the Cliff Castle Casino Hotel Lodge, located at 333 Middle Verde Road in Camp Verde.
As presenter for the AZ Speaks Program of Arizona Humanities, Zoll will present his Arizona Humanities lecture on the attempts to eliminate Native American dancing, as well as the role the Billingsley Hopi Dancers played in the effort to retain their religious freedom.
The May 31 presentation is free. Later this summer, VVAC will schedule the showing of the entire restored film.
American Epic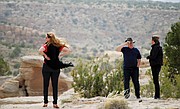 With that initial contact to the VVAC, Director Bernard MacMahon made arrangements to meet with Zoll in Sedona to see the film. Not only did Zoll loan the BBC a copy of the film, he escorted their crews to the Hopi Nation where they were given permission to film on the reservation, Zoll said.
Leigh Kuwanwisiwma, Director of the Office of Hopi Cultural Preservation, was interviewed and filmed for the Billingsley section of MacMahon's project.
The special BBC/PBS series, American Epic, will air Tuesdays, May 16, May 23 and May 30 on Public Television stations across the country.
The final episode on May 30 includes the story of the Hopi Billingsley dancers, with film footage provided by the Verde Valley Archaeology Center.
Raw roots of American music
The series is narrated by Robert Redford. On June 6, PBS will air a special two-hour compilation on June 6, a compilation of current day artists performing the songs from the series.
American Epic tells how Americans were given the opportunity to make records for the first time. This three-part film, Zoll stated, "melds space, time and technology to reveal the raw roots of American music."
"Tracing the odyssey of the first recording teams from the gritty streets of Memphis to the Texas plains to the Hopi Mesas and to the islands of Hawaii, American Epic captures the variety and excitement of their discoveries," Zoll stated.
For more information, contact the Verde Valley Archaeology Center at 928-567-0066 or visit www.vvarchcenter.org.
-- Follow Bill Helm on Twitter @BillHelm42
More like this story
SUBMIT FEEDBACK
Click Below to: