Battle of the Bots teaches science, technology, engineering and math
By
Bill Helm
|
BillHelm42
Originally Published: May 9, 2017 11:02 a.m.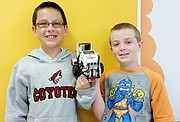 CAMP VERDE – Last year's inaugural Battle of the Bots competition was such a success, that students from Camp Verde Elementary School are eagerly preparing for Friday's event.
From 9:30 a.m. until noon on May 12, the school's robotics students will design, build and program Lego Mindstorm robots for battle.
At CVES, several children show up each Friday to learn about science, technology, engineering and math – by playing with robots.
This Cyber Cowboys Robotics Program will hold its second Battle of the Bots as children manned with their Lego robots will endeavor to either disable or push their opponent out of the ring.
According to Peggy Dickey, robotics coach/instructor at CVES, students have engineered their robots with different mechanisms to win the competition.
"Robots may have flippers to flip opponents, dozers to push opponents out of the ring, or wedges to get up under opponents in order to disable them," Dickey says.
Folks are invited to see different robotic designs created by the students.
Besides Battle of the Bots, Camp Verde Elementary School offers other robotics in their Fun Fridays program, such as Master the Missions, Concoct Your Own Creation, The Cyber Cowboys competitive robotics team, Cyber Security Course, and Computer Coding.
According to Dickey, the CVES robotics program "required well over $5,000" to operate just for this academic year, and "will need this amount for the next academic year."
Camp Verde Middle School will also need close to $4,000 in funding for its robotics programs, Dickey also says.
Anyone interested in helping support the school's robotics program can contact Peggy Dickey at pdickey@campverdeschools.org.
-- Follow Bill Helm on Twitter @BillHelm42
More like this story
SUBMIT FEEDBACK
Click Below to: