Camp Verde looks for public feedback on annual budget
By
Bill Helm
|
BillHelm42
Originally Published: May 9, 2017 11:14 a.m.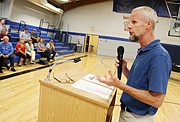 Though most in attendance were either employed by the Town of Camp Verde or on its council, Camp Verde Finance Director Mike Showers presented the fiscal year 2017-2018 proposed, tentative budget Monday in the Community Center gymnasium.
Town Manager Russ Martin has projected a revenue of about $8.4 million with general fund expenses expected to be about $7.15 million and another $1.1 million allocated to Capital Improvements Projects and debts, a profit of about $136,000 in the upcoming fiscal year.
A copy of the proposed tentative budget can be found at http://www.campverde.az.gov/wp-content/uploads/2010/08/FY18-Budget-Operations-Presentation-to-Council.pdf.
More like this story
SUBMIT FEEDBACK
Click Below to: