Verde Valley track and field girls shine at state meet
Originally Published: May 9, 2017 1:26 p.m.
MESA – After a slow start on Friday at the high school state championships, Verde Valley girls track and field athletes shined on Saturday at Mesa Community College.
Mingus Union sophomore Meg Babcock, junior Hannah DeVore and freshman Katelyn Prouty and Camp Verde senior Shayla Campbell-Kilburn led the way for the Mingus Union and Camp Verde girls.
"It went okay," said Mingus Union track and field head coach Yancey DeVore. "Hannah had a rough day and the girls relays had a rough day, as far as Friday prelims go."
After finishing 12th in the Division III 300m hurdles prelims and 13th in the 4x400 relay and 19th in the 4x100 relay, Hannah DeVore rebounded to take fifth in the 100m hurdles in 16.74.
"Hannah did qualify for the finals in the 100 meter hurdles and she ended up fifth in state, which is a three place improve from last year, which is really good," said her father and coach. "So I'm really proud of her for that. I'm a little disappointed with her 300 time but when you run four events in one day, it tends to take it out of you."
Babcock had the best finish that a Marauder or Cowboy had, taking second in the 800 meters in 2:24.24.
"Meg Babcock had a really good finish with the 800, she finished second, took home the silver medal, which was really good," Yancey DeVore said.
Babcock moved on to the AZ Meet of Champions on Thursday at Brophy Prep in Phoenix at 3:30 p.m. The meet is for this first through third place in all divisions at state and the top 20 overall in all levels.
For Camp Verde in Division IV, 6th senior Shayla Campbell-Kilburn led the way with a sixth place finish (94-01) in the discus. Plus the 4x800 relay team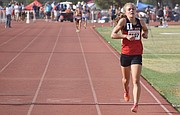 took seventh in 11:05.78.
"The 4x8 ran fantastic," said Camp Verde track and field head coach Mike O'Callaghan. "They ran their best time of the year. They went in ranked 16th and they ended up seventh, which means they scored points for the team this year, that they weren't able to do last year, so just a really, really strong finish to the year for the 4x8."
In Division III, Mingus Union finished 17th with 12 points. In Division IV, Sedona Red Rock was third with 54.5 and Camp Verde 27th with 5.
Sedona Red Rock
Shot put: senior Hannah Ringel won the shot put (39-11 ½) and finished second in the discus (111-11).
In Division III, Rio Rico senior Allie Schadler won her 13th state championship. She took home the 1,600 and 400-meter crown. This was her first 400 championship and though she has the state record in the 3,200, she didn't run that, which her sister Samantha won.
In the Division III triple jump, Mingus Union freshman Katelyn Prouty was ninth (33-08.75) and senior Maria Meacham 14th.
"Katelyn finished ninth in the triple jump which is really good, so that was really impressive," Yancey DeVore said.
The meet was held in summer like conditions on Friday and it was windy on Saturday. Glendale reached 111 degrees on Friday, the hottest mark in the country
"It was tough for our kids," Yancey DeVore said. "I talked to the Coconino coach too and he said it was tough on his kids too, of course being in Flag, they're practicing in 70s, you know?"
More like this story
SUBMIT FEEDBACK
Click Below to: