Verde Valley celebrates 11 years of weekly farm-to-table service
By
Bill Helm
|
BillHelm42
Originally Published: May 11, 2017 5:13 p.m.
VERDE VALLEY – Ever heard about people who grow tomatoes so delicious that they could pick one off a vine and it tastes as sweet as an apple?
What comes in a CSA basket?
Verde Valley CSA farmers grow a variety of fruits and vegetables. The following is a list of items you may receive during the 22-week season.
Apples
Apricots
Asparagus
Beans – green, yellow, purple
Beets
Blackberries
Bok Choy
Broccoli
Broccolini
Cabbage
Carrots
Chard
Cucumbers
Eggplant
Fennel
Garlic
Herbs
Kale
Leeks
Lettuce
Melons
Mushrooms
Mustard Greens
Okra
Onions
Parsnips
Peaches
Pears
Peas – sugar snap and snow
Peppers
Potatoes
Pumpkin
Radishes
Spinach
Summer Squash
Tomatoes
Turnips
Winter Squash
So imagine someone who has an orchard of fruit trees. When that person picks an apple off the tree, it must be about as sweet as candy.
Not to confuse the above scenarios as reason to make candied apples, the Verde Valley is just ripe – pun intended – with fresh produce.
Maybe farm-to-table really is as easy as growing, then eating the fruits and vegetables of one's hard work.
But the average person is likely not equipped to grow the variety of delicious produce available through the Verde Valley's Community Supported Agriculture program.
Shareholders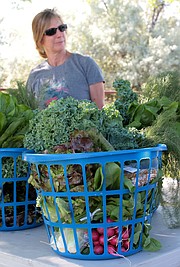 Called CSA, this sort of program is an opportunity for several farmers – also known as growers – to provide dozens of different fruits and vegetables to a community through its shareholders.
Now in its 11th season, the Verde Valley CSA is capped at 50 shareholders, plus an additional three shares for hard-working volunteers.
"It is a number that works for the farmers, and seems to meet the public's demand," says VVCSA Director Meghan Kincheloe.
"We only do full subscriptions, but shareholders are welcome to split their share with a friend, or we help match them with another person looking to share and trade off weeks.
According to Kincheloe, shareholders occasionally drop out during the season as their needs change.
To be placed on the waiting list, call 928-300-8623 or email shares@verdevalleycsa.com.
Creating partnerships
Just because Meghan Kincheloe no longer lives on a farm doesn't mean she no longer appreciates the farm-to-table opportunities in the Verde Valley.
But marketing and promoting the CSA is a great commitment, so the Sedona resident is sharing the leadership with Hilary Barnett of Willowbrook Farm in Camp Verde.
"We work really well together and are both completely dedicated to helping connect the public and farmers to support local food production," Kincheloe says. "Hilary is a wonderful partner in running the CSA. This is a passion project for us, not a money maker. We just really believe in supporting the local food system and sharing our love of local food with others."
Barnett, who along with her sister Hope and their mother Denise Gould, have been involved with the Verde Valley cooperative since its inception.
Best variety
Hilary Barnett says that the CSA "tries to give members the best variety of what's available."
"CSAs are usually one farm," she says. "Whatever they have is what you get. Here, Meghan and I try to find more."
Community Supported Agriculture programs such as VVCSA are similar to farmers' cooperatives, meaning that Kincheloe and Barnett "partner with any local farm that can provide organically grown produce for our shareholders."
Taking pride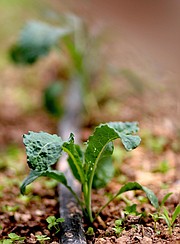 With so many growers growing so many different types of fruits and vegetables, Kincheloe says that the Verde Valley CSA "pride[s itself] on the variety we deliver to our shareholders each week."
"We make a real effort not to overwhelm people with the same thing week after week, and that is possible only because we work with multiple farms," Kincheloe says. "New farms are popping up, and it is incredible to see what people are able to grow on a little patch of land. Arizona isn't exactly what most people imagine when they think of farmland. But the Verde Valley has so many amazing small farms that are producing gorgeous produce where you would least expect it."
But wait, there's more …
Shareholders pay $550 for 22 weeks, which breaks down to $25 each week. Shareholders can either pay up front or in two installments.
The Verde Valley CSA provides locally-grown produce from small, family-run farms in weekly baskets at three delivery locations.
This year's CSA season, from May 17 through Oct. 11, has weekly deliveries on Wednesdays from 4 p.m. to 6 p.m. at Windmill Park in Cornville, located at 9950 E. Cornville Road, and in Sedona at Posse Grounds Park, located at 525 Posse Ground Road.
Verde Valley CSA also has a pickup point in Camp Verde from 1 p.m. until 2 p.m. Wednesdays at Willowbrook Farm, located at 2773 Middle Verde Road.
Shareholders receive between six and 10 different items in their weekly basket.
Verde Valley CSA also offers an egg share program, at $6 per dozen, for the entire 22-week season, as well as a flower share program, with weekly bouquets, available for $132 for a 12-week season, from June 14 through Aug. 30.
Eggs are provided by Willowbrook Farm and also by Verde Run Farms in Camp Verde. Flowers are made available by Whipstone Farm.
Says Kincheloe, shareholders could "occasionally get some honey or pecans included with their share, if the produce is slim that week.
Anyone not able to pick up their weekly share is advised to make arrangements to have someone pick it up for them. Produce not picked up at the weekly distribution will be donated.
For more information about the Verde Valley CSA, call Meghan Kincheloe at 928-300-8623 or visit the Verde Valley CSA website at www.verdevalleycsa.com.
More like this story
SUBMIT FEEDBACK
Click Below to: