'Always wanted to be Farmers' Market people'
Minnesota transplants enjoying warm climate, golden tomatoes as Verde Valley Farmers' Market vendors
By
Bill Helm
|
BillHelm42
Originally Published: May 13, 2017 3:19 p.m.
CAMP VERDE – It's been 32 years since Christie and Doug Fasteen married, but less than two years since they began their foray into the farm-to-table business.
Tired of their white-collar careers, as well as the cold and damp winters of Minneapolis, the Fasteens first visited Arizona a few years ago.
"We always wanted to be farmers' market people," Christie said.
As they saw a few of the community's more well-known farms, they could feel a sense of absolution, that they needed to move to Arizona, Christie said.
"As we drove by Hauser Farms, we know we had to move out here," Christie said.
Growers, canners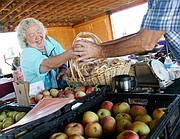 Fast forward to last year. The Fasteens, on their half-acre of Camp Verde land, are working their land, but have found a grower whose tomatoes they purchase.
One day, they visit that tomato farmer, eager for a batch of juicy reds when they were told something they weren't expecting.
"We're out," the man told the Fasteens. "But I have these golden tomatoes you could try. They're sweet, mild."
Now the Fasteens aren't just growers. They are canners. So they gave the golden tomatoes a try.
The Fasteens did not expect the golden tomatoes to be so good – and to become so popular with their customers at the Verde Valley Farmers' Market.
"Now, we cannot produce enough tomatoes to make the salsa," Christie said.
In their garden, the Fasteens now have 60 of those golden tomato plants, plants which will soon yield succulent yellow beauties for their salsas.
Besides their golden tomato salsa – in varying grades of heat – the Fasteens make 19 different kinds of jams and jellies, including pomegranate, persimmon, grape, plum and pear. Though the Fasteens are beginning to grow honey crisp apples, the fruit they use for canning is purchased from the locals.
"We have some people who call us when they have extra fruit and we make jelly and jam out of it," Christie said.
Still new to farming, the Fasteens are also growing their own pomegranates, apricots, nectarines, plums, Asian pears, watermelon, cantaloupe, sour cherry and quince. And the garden Christie said is "full of every kind of vegetable," with beans, peas, greens, cucumbers, Brussel sprouts and squash.
This year, they also plan to have pickled peppers and bread-and-butter pickles available at the Verde Valley Farmers' Market.
Now in its 14th season
After a year behind the scenes, Jane Davie is again the manager of the Verde Valley Farmers' Market. Davie, and Bob Haskill who own and operate their own farm in Cottonwood, have been vendors at the Camp Verde market for about as long as most people can remember. Having managed the market in the past, Davie said that this year there will be vendors both new and regular.
"But one thing hasn't changed, the same great food," Davie said. "At the beginning of the season, you can expect to see garlic, onion, carrots, cabbage, beets, turnips, kale, salad greens, radishes, herbs and flowers at this time of the year."
This year's Verde Valley Farmers' Market, now in its 14th season, will open two weeks earlier than usual.
From May 20, the market will include farmers such as Fernando Padilla and John Teague (pecans), Daisy Estivariz (flowers and figs), GBH Goods: (canned items and popcorns), Cowboy Honey, Willowbrook Farm (produce), Sunnyside Farms (produce and chicken), DaNede Farms (produce), Roger Noquez (produce) and Marilyn's Orchard (fruit), as well as Carl Campio and his copper jewelry, and Terri Painter, known as the Crazy Goat Soap Lady.
Said Steve Meyer of Marilyn's Orchard, this year "has been a pretty good year for fruit."
For the Meyers, Steve and Marilyn, the orchard is "a hobby for us."
Apricots, pears, peaches, plums, apples and cherries round out their Camp Verde orchard.
Retired after a life in Flagstaff, the Meyers purchased the 2.2 acres in Camp Verde a few years ago and began planting fruit trees.
"Three hundred trees later, we still plant a new every now and then," Steve Meyer said.
Also on the first Saturday of each month, the Master Gardeners of Yavapai County will be available to answer any gardening questions.
Live music by local musicians will also be a part of the weekly market.
The Verde Valley Farmers' Market is located at the Town Ramada, next to Fort Verde State Historic Park, on Hollamon Street in Camp Verde.
The market specializes in fresh, locally grown produce. Everything sold at the Market is grown within 50 miles of Camp Verde.
For more information, call Jane Davie at 928-634-7077.
-- Follow Bill Helm on Twitter @BillHelm42 and on Facebook at @CampVerdeBugle
More like this story
SUBMIT FEEDBACK
Click Below to: