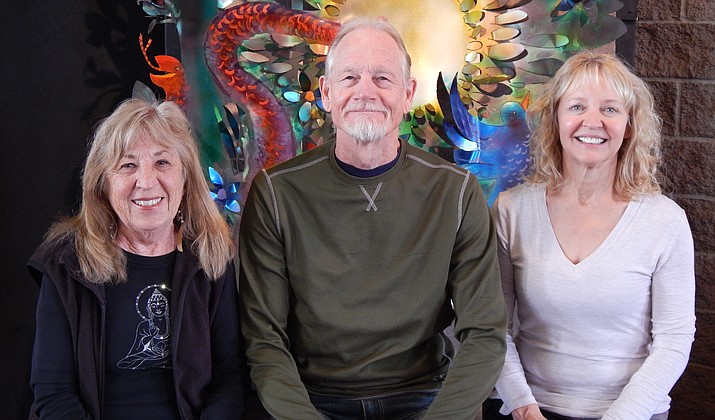 ---
---
If You Go ...
What: Arts Discussion and Conversation
Where: Sedona Hub
When: Sunday May 21st 3-5
How Much: $10 Suggested Donation
As the Legendary Luminaries exhibit, currently showing at the Sedona Hub, was developed the idea for a facilitated discussion came up and Adele Seronde posed the following question: What is the role of the Artist in a chaotic world?
Moderated by Red Earth Theatre's Kate Hawkes, the panelists are drawn from our community and each in their own way are noted for bringing their artistic passions to their social and community endeavors.  Mindy Mendelsohn, Bonnie Hartenstein,  William Eaton, Kayt Pearl, Linda Goldenstein and Christopher Fox Graham will also share a personal experience with an art form that changed or deeply influenced their life and offer practical ways to engage/bring their art-forms into the real world.
Mindy Mendelsohn has actively worked in the arts for over 30 years as an actress, director, filmmaker and writer as well as Agent for Feature Film and television at the Geddes Agency, facilitated Artist Way creativity workshops for 24 years receiving international acclaim for her work. A Sedona resident for 24 years she participated in theatre at Sedona Arts Center and Canyon Moon Theatre Company as well as producing the V-Day Sedona production of Eve Ensler's play The Vagina Monologues
Bonnie Hartenstein is an internationally exhibited painter, mixed media and Installation artist with an MFA, and MA in 20th Century Art History and Criticism from the School of the Art Institute of Chicago where she was an Instructor in Painting, Drawing and Color Theory for 23 years. In Chicago, for Urban Gateways, she pioneered an inter-disciplinary arts program in city and suburban schools relating Art to the Basic Curriculum. In Sedona she has taught Drawing, Mixed Media and Contemporary Art at the Sedona Art Center, and currently teaches in her studio in VOC.
William Eaton designs and builds innovative guitars and stringed instruments and is a founder and Director of the Roberto-Venn School of Luthiery, in Phoenix, AZ.  A four time GRAMMY nominee Eaton has recorded 16 albums for Canyon Records and tours nationally and internationally.  In 2015 he received the Arizona Governor's Arts Award in the 'artist' category. Along with his wife Christine, William is the co-Director of Old Town Center for the Arts, in Cottonwood, Arizona and is a long time environmental activist and a founder and director of Sustainable Arizona.  
Kayt Pearl is a long-time lover of the vernacular and sonic landscapes.  As a musician and spoken word artist, Kayt has been deeply involved with the performing arts as a teacher, performer, writer and producer for over a decade. She is Co-founder of #Insecurities
Performance Project which stages ensemble multi-disciplinary shows that explore the definition of "Insecurity" with real-life stories of personal and universal challenge, and the founder of Building Bridges Events which brings together multi-cultural speakers, topics and events.
Linda Goldenstein is a native of Northern Arizona and owner of Goldenstein Gallery now in its 16th year. This multi-award winning gallery has been named Best Gallery in Sedona for 9 years running and Best Gallery by Market Surveys of America for the past four years. They received the 2009 Sedona Mayor's Arts Award as a business that heavily contributes to the growth of the arts as a living entity. Linda also hosts a thriving Artist in Residence program, including the creation of a healing Tibetan Sand Mandala that will be created publicly May 26- June 2.
Christopher Fox Graham is a poet and professional writer who began his performance poetry career in October 2000. He has been a member of six Flagstaff National Poetry Slam teams, representing Flagstaff six times since 2001, published five books of poetry and a spoken word CD, and been published in six anthologies of spoken word and is in two DVDs of Grand Slam Championships.
His blog, FoxThePoet.Blogspot.com, features his work and those of other national poets and Sedona artists.
This event is a suggested $10 donation with the funds allocated for permanently improving the lighting at the Hub as has been demonstrated by this exhibit. For more information on the Legendary Luminaries show, go to ww.sedonahub.org
You are invited to create your own the conversations after the panel discussion with tea and coffee, sitting a tables, discovering ideas and further exploring this question by sharing your stories with each other.
Surrounded by the artwork of 4 powerful, socially aware artists - Adele Seronde, Ruth Waddell, Theodosia Greene and Leda Livant - you will be inspired and, we hope, activated to support the arts in your community and find your voice in times of chaos.