Cowboys track and field stars hold their own at Meet of Champions
Originally Published: May 20, 2017 1:32 p.m.
Camp Verde high sophomore Chris Holdgrafer and junior Nate Schultz competed with Arizona track and field's best last week and made their mark.
Holdgrafer and Schultz competed in the exclusive AZ Meet of Champions at Brophy College Prep in Phoenix. The 64th annual Meet of Champions featured athletes who finished in the top three in their division at the state meet or were ranked in the top 20 in their event in all four divisions combined.
"It was a good experience for both of the guys," said Camp Verde track and field head coach Mike O'Callaghan. "In Chris' case, he ran his lifetime best the hurdles, 16 flat. So that was a really great way for him to end the year."
Holdgrafer took fifth in the 110m hurdles, running a 16.00 to set a new personal record. However, he lost to a familiar foe, Round Valley senior Rhett Bingham.
"I did PR in the hurdles, I got a 16 flat time, but of course the same guy who beat me in finals for state for our division kicked a hurdle in my lane again," Holdgrafer said.
Holdgrafer narrowly missed his goal in the last meet of the season, getting a time in the 15 seconds.
"So it was a couple milliseconds off but I was close so I wasn't unhappy with it," Holdgrafer said.
Holdgrafer also competed in the triple jump, finishing 13th with mark of 38-03.00.
Schultz was 10th in the triple jump (41-08.50) and Sedona Red Rock senior Joe Glomski was second (45-07.00).
In the long jump, Glomski was second with a personal record jump of 23-10.00 and Schultz 12th, leaping 20-03.75.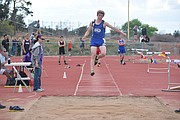 Sedona Red Rock senior Hannah Ringel was fifth in the shot put with a throw of 38-08.50.
Holdgrafer said some people didn't show up and so they only had one heat of the hurdles but it was nice to not have to wait that long to compete and be at the track for hours.
"It was still really nice to compete against people that are obviously the best and know that I have a chance of beating them," Holdgrafer said.
O'Callaghan said the meet will help inspire the Division IV Cowboys to work more during the summer.
"While they may be Division I, Division II school, that does not mean that they are invincible because they beat some of them and the fact that they were successful at competing against them, it's a nice confidence booster to be able to say 'hey, I went up against DI and DII kids and I was able to hold my own and beat some of them," O'Callaghan said. "So from that perspective, it's a really good experience and confidence builder for going into next year and actually gives them some incentive to do a little more work this summer Instead of being a take the summer off kind of athlete."
In addition to training at Camp Verde, O'Callaghan said the Cowboys will go to mini clinics held by Sedona Red Rock assistant coach John Ortiz. They are expected to attract athletes from Camp Verde, Sedona, Mingus Union and maybe Flagstaff.
He's helped out the Cowboys before.
"He's probably one of the top coaches up this way," O'Callaghan said. "So I'm not going to be foolish enough to say no to a really good coach who's willing to help."
At the Meet of Champions, Holdgrafer was a rare sophomore among many juniors and seniors.
"It gives me a lot of confidence for going in next year knowing that I've only done track for two seasons and I'm able to compete with some of the top people that have been doing it for a lot longer and I plan on trying to get higher in the rankings next year," Holdgrafer said.
More like this story
SUBMIT FEEDBACK
Click Below to: