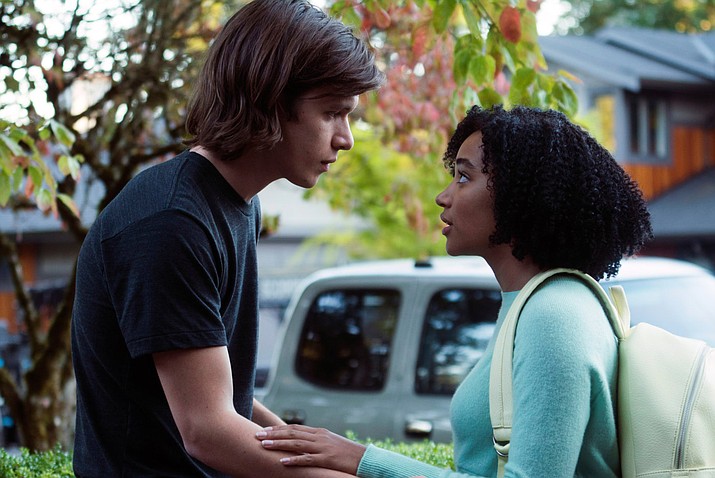 ---
---
Everything, Everything is the type of movie that gives us a peek into a dark side of life, and the discovery that there is still a path to joy and happiness. Everything, Everything is not as syrupy as one might expect, but it does have some schmaltzy aspects.
Madeleine 'Maddy' Whittier (Amandla Stenberg) is 18 years old today, celebrating the birthday with her mother, Pauline (Anika Noni Rose), at home. The house is large, very white throughout and, we learn, sterile.
Maddy suffers from an immune-deficiency disease which requires absolute sterility in her surroundings. She has never been outdoors in her life. Her widowed mother works to provide her with as much of a 'full' life as possible.
Maddy is well educated, artistically talented and generally accustomed to her reclusive life. She does have a longing to see the outside, especially the ocean which is only three miles away from their California home.
New homeowners move into the house next door. There is a young son, Olly (Nick Robinson), who spies Maddy at her window. He waves and smiles. So does Maddy. He is a handsome young man and Maddy is a beautiful young lady and the inevitable connection follows. Olly is disappointed that he cannot meet her in person. They communicate through window messages, tweets and e-mail.
Maddy's lifelong caregiver, Nurse Carla, allows Olly to come inside as long as he stays across the room from Maddy. That's good for a while. The temptation is too much for the young romantic souls and they eventually embrace.
Then in a crucial moment, Maddy decides she wants to venture out. She wants to see other houses, other neighborhoods, the real sky and mostly, the ocean.
Maddy experiences the thrill that she always anticipated and hoped for. In the ocean, Olly teaches her how to swim.
Maddy's mother finds out and bans Olly from seeing Maddy ever again. She finally rebels and secretly leaves the house one night, leaving a farewell note for her mother. One of the things Maddy does is go to a bank and get a credit card!
She then collects Olly and tells him she wants to go to Hawaii. He agrees and off they go as Maddy has her first flight in a plane. Maddy has a crisis in Hawaii. She is hospitalized and transported home. When she recovers, Maddy realizes she cannot continue to burden Olly with her health problem.
They are both heartbroken and it seems to end with Olly going with his family to New York to live. Olly never quits messaging Maddy, hoping she will change her mind, and the film comes to a climax that is surprising and not disappointing.
The acting here is very good, especially by Stenberg and Robinson.
The theme is not excitingly new, as we have seen it many times before. For example, in 2014, the excellent film The Fault in Our Stars, gave us a similar experience.
Everything, Everything is at Harkins Sedona 6 Theater.