American Legion Post 93 presents annual Memorial Day service at Clear Creek Cemetery
By
Bill Helm
|
BillHelm42
Originally Published: May 25, 2017 12:57 p.m.
CAMP VERDE – It used to be that Memorial Day was held each year on May 30.
Poppies 'to anybody and everybody'
American Legion Post 93 Ladies Auxiliary gives out red remembrances for Memorial Day
CAMP VERDE – It's been nearly 100 years since remembrance poppies have been given out to commemorate servicemen and servicewomen who died in war.
Since 1977, American Legion Post 93 Camp Verde has had its own Ladies Auxiliary, a group which its first year in existence gave out the red poppies made by volunteers.
This Friday and Saturday in Camp Verde, Legion Post 93 Auxiliary members will again give out red poppies "to anybody and everybody," says Carol Barnard, the ladies group's vice president.
Barnard, who has been a member of the Ladies Auxiliary for 18 years, estimates about one dozen volunteers will distribute the red poppies outside the following locations: Ernie's Smoke Shop, Ace Hardware, National Bank of Arizona, Chase Bank, and between Bashas' and CVS.
Besides giving out the hand-made floral remembrances, the Ladies Auxiliary will also "wish people to be safe for the weekend," says Barnard, who also serves as Legion Post 93 cook.
Contact American Legion Post 93 Ladies Auxiliary at 928-567-6154 for more information.
--Bill Helm
Maybe it seems that not so many people remember that little fact. Truth is, a great many people who take the time to remember loved ones lost at war happen to have been around before Memorial Day was first designated the last Monday in May.
A member of the Ladies Auxiliary of American Legion Post 93, longtime Camp Verdean Jackie Baker will be one of the speakers at the Legion's annual Memorial Day service, Monday at 11 a.m. at the Clear Creek Cemetery.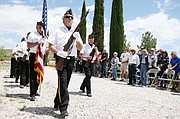 Baker, who is also on the Camp Verde Town Council, says she plans to share a few lesser-known facts about the National remembrance set aside each year to remember all who died while serving in the U.S. armed forces.
For one thing, Baker says that though the numbers 1, 7, 7 and 6 add up to 21, the 21-gun salute has nothing to do with America's fight for independence in the year 1776.
"Though it's an interesting coincidence, it's an urban legend," Baker says. "The 21-gun salute started well before America was founded."
Once known as Decoration Day, Memorial Day originated in 1862 when President Abraham Lincoln signed legislation establishing national veterans' cemeteries.
Camp Verde's annual Memorial Day remembrance will begin with a welcome by Legion Post Commander Stewart Phelan, followed by the posting of the colors by the Legion Color Guards.
"Whoever needs a color guard, we're available," says American Legion's Tom Dimock, a member for 23 years, the past 22 with the Legion's color guard.
"We do honor guard, color guard, we do funerals, flag raising ceremonies, schools. They're part of my family. We try to help the community – and the veterans."
Karen Mealey and Sharon Doran will sign the National Anthem, followed by an opening prayer by Legion Post Chaplain Gordon Kelsey, the pledge of allegiance and the placing of the wreath, by the American Legion Ladies Auxiliary.
In addition to Baker's presentation, other salutations and remarks will be delivered by Phelan, Mealey, Sons of the American Legion commander Rick Brenfleck, Verde Valley American Legion Riders director Bill Gay, and Ladies Auxiliary chaplain Gayleen Kelsey.
To finish the remembrance, the Legion Post's Honor Guard will do the 21-gun salute, followed by taps, the retrieval of the colors, then closing remarks.
Clear Creek Cemetery is located on Old Church Road off SR 260.
American Legion Post 93 will host a free lunch following the remembrance for anyone in attendance. American Legion Post 93 is located at 276 S. Third St. in Camp Verde.
Call 928-567-6154 for more information.
-- Follow Bill Helm on Twitter @BillHelm42
SUBMIT FEEDBACK
Click Below to:
More like this story