Camp Verde marshal talks budget, new commander at 'Coffee with a Cop'
By
Bill Helm
|
BillHelm42
Originally Published: May 25, 2017 12:51 p.m.
CAMP VERDE – To pay heed to Memorial Day, the Camp Verde Marshal's Office holds its monthly Coffee with a Cop a week early each May.
A year ago, the big news at the May edition of Coffee with a Cop actually became news several months later when then-Riverside, Calif. residents Darryl Olinick and Rebecca Moyer visited the community – and saw that the host coffee shop, Thanks a Latte, was for sale.
Isn't irony ironic? Nowadays, the husband and wife team – owners of Thanks a Latte since around last Thanksgiving, never miss a Coffee with a Cop.
On Monday, May 22, Marshal Nancy Gardner and Animal Control Officer Steve Ganis visited with about a dozen Camp Verde residents.
Budget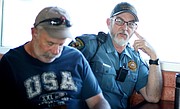 Though Marshal Gardner asked for – but will not likely receive budget room for an additional deputy in fiscal year 2017-2018, she says that she's "happy with the way the budget would turn out."
According to Marshal Gardner, incoming deputies are paid $18.69 per hour.
Not running operations with a full staff of deputies may not be ideal, but replacing former commander Jacqui MacConnell was imperative, Gardner says.
MacConnell's replacement, Arizona Department of Transportation Lt. Brian Armstrong, will start with the Marshal's Office on June 26.
"We pushed it off until the end of the fiscal year," Marshal Gardner says. "We're looking forward to bringing in the commander."
Gardner says that the new CVMO commander has 29 years of law enforcement experience and has already "purchased a home in the area."
"I'm excited that soon you will get to know him," Marshal Gardner says.
Except when otherwise posted, Coffee with a Cop is held the last Monday of each month, from 8 a.m. to 9 a.m. at Thanks a Latte, located at 348 S. Main St., Camp Verde.
-- Follow Bill Helm on Twitter @BillHelm42
More like this story
SUBMIT FEEDBACK
Click Below to: