Cottonwood-Oak Creek, Mingus Union boards agree to structure of consolidation committee
By
Bill Helm
|
BillHelm42
Originally Published: November 2, 2017 2:16 p.m.
COTTONWOOD – By Nov. 8, both Cottonwood-Oak Creek and Mingus Union school boards will select members of a committee to help the school districts decide whether to support district consolidation.
Unification OR consolidation?
Should the Cottonwood-Oak Creek and Mingus Union school districts merge into one district, would it be a unification of the districts? Or a consolidation?
Both, according to Yavapai County School Superintendent Tim Carter.
A consolidation is what happens when two or more school districts that have the same border or cover the same area merge together, according to Carter.
Unification can happen one of two ways. Either an elementary school district (K-8) expands its program to offer K-12, or an elementary school district can join with a union high school district (9-12) to form a new unified district (K-12).
Wednesday, the two school boards held a joint meeting to discuss the committee's demographics, as well as its purpose and duration of usefulness.
It's safe to say that Cottonwood resident Jonathan Jauregui will not be part of the committee, as he told both boards in the public comments section of the meeting that he was – and is still – against a merger of the two districts.
"But I want to thank both of these boards for doing what they're doing," said Jauregui, who in 2016 ran unsuccessfully for a spot on the Mingus Union High School District's governing board.
Since February, Cottonwood resident Andy Groseta has let Mingus Union and Cottonwood-Oak Creek school districts know that they should merge into one district.
Groseta was one of more than two dozen people in attendance Wednesday. Though Groseta had said in an email to the Verde Independent that a facilitator should be part of the committee's process, both Cottonwood-Oak Creek Board President Jason Finger and Mingus Union Board President Anita Glazar agreed that a facilitator would not be necessary.
"Though we may change our minds later," Glazar said following the Wednesday meeting.
Creating a committee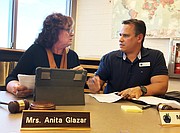 The committee should include the presidents and vice presidents of each board, as well two staffers from each school district, said both Finger and Glazar.
Additionally, Finger and Glazar agreed Wednesday that each district should submit names of prospective community members that the Cottonwood-Oak Creek and Mingus Union boards would whittle down to three or four by Nov. 8.
On Nov. 7, the Cottonwood-Oak Creek school board will meet for its regularly-scheduled monthly meeting, and will make official which two staffers it will select to be a part of the committee.
Finger and Glazar agreed Wednesday that they, along with Cottonwood-Oak Creek Board Vice President Joanne Cook and Mingus Union Board Vice President Jim Ledbetter, would meet either by telephone or in person on Nov. 8 to finalize the committee's members.
What will the committee's focus be?
Cottonwood-Oak Creek Board member Janice Rollins stated that the committee's main focus – as well as the focus of the two school boards – "is all about the kids."
"If by consolidating the districts, can the children be better accommodated" Rollins asked. "Can a better education be accomplished? Can we save money"
Finger then said that he "see[s] this committee not to debate the merits [of a merger] but a fact-finding group to help [the two school boards] debate the merits [of a merger]."
As well as seeking out and soliciting fact, the committee's purpose should be to "add a level of transparency," according to Mingus Union Board Member Steve Gesell.
"It only makes sense to get more objective minds to focus on this issue," Gesell said. "It's a very complex issue.
Topics of inquiry
Both boards decided Wednesday that the committee will first be tasked with four identified topics of inquiry: fiscal, staff, student and community concerns. The boards also decided to tentatively set aside Nov. 14 as the first meeting of the fact-finding committee.
-- Follow Bill Helm on Twitter @BillHelm42
SUBMIT FEEDBACK
Click Below to:
More like this story