Mingus Union hosts HDYF title, third place games all day Saturday
Originally Published: November 2, 2017 1:39 p.m.
This week is championship Saturday for High Desert Youth Football.
On Saturday Mingus Union football will host six games.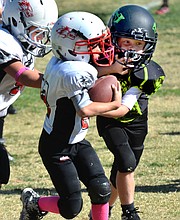 At 8 a.m. the Mighty Mite will play their 3rd place game followed by their championship game at 10 a.m.
The MM Lobos will play the Marauders in all Cottonwood championship game.
Then at noon the Minors' third place game will kick off, followed by their championship game at 2:30 p.m. Camp Verde's Minors face Chino Valley in the noon game.
At 5 p.m. the Majors will play for third place and then at 7:30 p.m. their championship game will be contested. The 5 p.m. game will feature the Cottonwood Lions against Flagstaff.
Last week in the semifinals, the Lobos beat the Hitmen 18-6, the Marauders bested Bagdad 25-6 and Wickenburg beat the Lions 20-6.
More like this story
SUBMIT FEEDBACK
Click Below to: