Senior Hannah DeVore caps solid Mingus career in state championships
Originally Published: November 4, 2017 3:23 p.m.
PHOENIX — Representing Verde Valley, Mingus Union senior Hannah DeVore secured a top 85 finish at the Division III girls state cross country meet.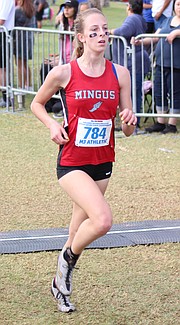 DeVore, sporting Marauder eye black stickers, finished 85th with a time of 22:30 at the Cave Creek Golf Course.
"It went pretty good," DeVore said. "I mean it was a really hard course but I think I did well and I did a lot better than the first time I ran State here, so that's good."
DeVore ran with 7:15.5 mile splits.
"I think she ran really well," said Mingus head coach Justine Sparks. "It's hard when you don't have a team, when you're the only one representing but she ran really well."
Sparks said despite training almost the whole season by herself, DeVore stayed motivated, an impressive feat.
"Yeah it's really hard and it's just been hard this season to stay motivated running by yourself, it's just not really fun but it is good to feel good about yourself know that you did it," DeVore said. "So I'm glad that I could do that and finish the season strong."
Rio Rico junior Samantha Schadler won the Division III girls race, keeping it in the family. Her sister Allie won four state cross country titles in a row before graduating last year. Allie Schadler is now running for the University of Washington.
Ganado won the girls D-III team title with 101 points, edging Coconino, who had 108 and defending champion Salpointe Catholic, who racked up 116 points.
Senior Matthew Bradley from Prescott won the boys Division 3 title, in 16:04.
In Division II girls, Flagstaff won the team championship by 31 points. They also won the boys championship with 127 points, while second-place Campo Verde had 146.
DeVore said the hills at the golf course were the worst part.
"This course is definitely a really hard course to PR on," Sparks said. "It's super hilly but I think she did really well considering all the conditions."
However the weather was cool for the morning race. The temperature was 70 degress.
"The last time I ran here it was like 100 degrees, it was horrible," DeVore said. "But yeah it was pretty nice weather out there, we got lucky for that."
The Marauders' girls team was small and junior Meg Babcock was injured most of the season, but senior Tiffany Drake also really impressed Sparks.
"There were really consistent improvements," Sparks said. "She ran really, really close to her best time ever and then our other runner Tiffany, she improved over the whole entire season by about 10 minutes."
DeVore finished 14th at sectionals with a time of 21:11.21.
"It was cool, I was actually surprised," DeVore said. "I wasn't sure if I was going to make it, I missed a whole week of training when I was on a mission trip to Houston but I'm glad I could come back from that and make it to State, it's a really good way to end my senior year, so it was fun."
The Mingus Union boys finished 13th at sectionals.
"They did really, really well," Sparks said. "They all PRed from their previous times. They didn't quite make State, but they still I think improved over the season that I think it was a really, really impressive performance."
More like this story
SUBMIT FEEDBACK
Click Below to: