8 things to do this weekend
Originally Published: November 7, 2017 3:16 p.m.
1
Verde Valley Toy Run
The 33rd annual Verde Valley Toy Run, sponsored by the Moose Lodge, is set for Saturday, Nov. 11 from 9 a.m. to 4 p.m.
Toys will be given to the Yavapai County Sheriff's Office for distribution to Verde Valley youngsters. All vehicles welcomed to participate. The End Party will have gift raffles from local merchants, 50/50, food and music. Proceeds are being donated to the Verde Valley Teen Center in Cottonwood.
Registration, starting at 9 a.m., will be held at Wal-Mart, located 2003 E. Rodeo Dr. in Cottonwood. Cars running and kickstands up at 10:30 a.m.
The End Party will take place at the Moose Lodge, located 1051 S. Broadway in Clarkdale.
For more information, call Cheri Marx at 928-301-4485
Admission is $20 per driver with $10 for all passengers/riders plus an unwrapped toy donation.
2

The story of Captain "Mario" Estrada
Rob Estrada, a decade-long Rimrock resident, will share the story of his father, Captain "Mario" Estrada, a West Texas Cowboy who became a decorated Cavalry Officer. The story will be told at the Friday, Nov. 10 meeting of the Beaver Creek Preservation and Historical Society at 9 a.m. at the Beaver Creek Adult Center in Lake Montezuma. Captain Estrada was the son of a White Mountain Apache who rose through the Army ranks as a maverick and is interned at Arlington National Cemetery.
The biography will include his Southwestern origin; tank training in Arizona; Normandy; the Battle of the Bulge; liberation of Buchenwald; Jump School; OCS; Japan Occupation; Korea; Guatemala; Ranger School; and the historical figures with whom he served.
All are welcome to attend this free event. For more information, please call 928-567-4648.
3
Opening reception for Wreath Show
Friends of Camp Verde Library is sponsoring a wreath decorating contest during November, with the opening reception for the Wreath Show held at Camp Verde Community Library on Friday, Nov. 10 from 4-7 p.m.

Individuals or groups, businesses and schools are asked to submit entries in this competition. Entry forms are available at the library PC Help Desk or online at http://www.cvlibrary.org/friends. Wreaths must be submitted by Wednesday, Nov. 8. The wreaths will be on display from Nov. 10 through Nov. 24 when they will be sold by silent auction, with Friends of Camp Verde Library as the beneficiary of the auction. Prizes will be awarded in several categories.
Camp Verde Community Library is located at 130 Black Bridge Road in Camp Verde. For more information call 928-554-8380.
4
Renee Johanna book signing, launch party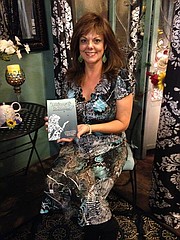 Renee Johanna, intuitive consultant, inspirational speaker and now author, is hosting a book signing and launch party in Jerome on Saturday, Nov. 11 at 6 p.m. This will be the first of many engagements as Renee prepares for a cross country publicity tour in 2018.

Originally from Iowa, Renee found her calling in Jerome when she started writing about her experiences and insights after opening up to the public in 2014 to do psychic readings for tourists and the local community. Now, after 3 years, Renee has transformed her own life from the inside out and is sharing this "how to" information through her book, "Welcome to Awakening."
5
Walkin' on Main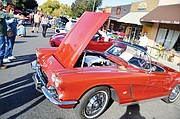 On Saturday, Nov. 11 from 11 a.m. until 5 p.m., the Verde Valley is celebrating Historic 89A and the area's unique history with Walkin' on Main.
Besides Old Town Cottonwood's charming galleries, shops and restaurants, there will be an outdoor wine tasting hosted by the Verde Valley Wine Consortium, an antique and classic car show organized the Mingus Union Hot Rod Club, and live music.
Mingus Union Art Club will create live art on the street sidewalks and you can also take a self-guided historic tour of Old Town Cottonwood provided by the Cottonwood Hotel.
For more information, please see the Leisure Times, Parks & Recreation Dept., at cottonwoodaz.gov or contact Cottonwood Recreation Center at 928-639-3200.
6
Verde Valley Military Service Park flag retirement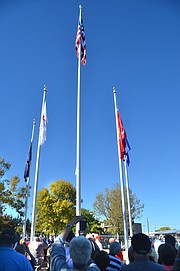 The one-year anniversary of the Verde Valley Military Service Park ribbon-cutting ceremony will be marked with the raising of a new 12x18 foot United States Flag at 1 p.m. on Veterans Day, Saturday, Nov. 11.
Preceding this, at about 12:20 p.m., the five service flags will be replaced, and the currently flying U.S. flag will be lowered and folded. As was done with the flags retired on 2017 Memorial Day, these flags will be offered through a mail bid auction. Bids must include amount of bid, flag bid for, and contact info, and mailed to City of Cottonwood, 150 S 6th St. Cottonwood, AZ 86326. Deadline is Nov. 30.
A certificate attesting to period during which flag was flown is included. All funds realized through this go toward continued work on the Park.
The new Phase 3 VVMSP Challenge Coins will be on sale, as will the Phases 1 & 2 and sets of the three. As with the flag sale, all funds are assigned to further construction
Since the unveiling of the Army monument on Memorial Day, the other four Service monuments have been completed, with nearly 200 Verde Valley veterans' names inscribed thereon, with plans to add new names on a quarterly schedule. Inscription forms will be available. The entire event should last about an hour. Water will be available, but bring your own seating, if needed.
7
National Park Service tribute to veterans
The National Park Service would like to invite the public on Saturday, Nov. 11 at 10 a.m. for a special tribute to veterans at Montezuma Castle National Monument.
The ceremony will begin with the posting of the colors by the Verde Valley Marine Corps League. Then the National Park Service will welcome two guest speakers, Tami Legaspi and Theo Ramlal. Legaspi and Ramlal are former armed service members who are now part of the National Park Service family. A rifle volley and the playing of Taps will end the program.
All national parks and monuments will be fee free on Nov. 11- 12.

Montezuma Castle National Monument is located off I-17, exit 289 at 2800 Montezuma Castle Road in Camp Verde. For information, call 928-567-3322, extension zero, visit www.nps.gov/moca.

8
Beaver Creek Trails Day
Celebrate Beaver Creek Trails Day from 11 a.m. until 2 p.m. Saturday, Nov. 11 at Sycamore Park, located at 4710 E. Beaver Vista Road in Lake Montezuma. Sycamore Park is next to the bridge.

Dutch Oven Cowboy Cooking will include chili cheese enchiladas and peach cobbler. Plenty of Cowboy coffee and lemonade will also be served.

Free Wickiup Mesa Trails map brochures and free map bandanas will be given for each person that completes a Trails Coalition information survey.

Beaver Creek Trails Day is sponsored each year by the Beaver Creek Trails Coalition (BCTC), which will also have information about the newly constructed and signed Wickiup Trails System, regional group hikes, and how to get involved.
If your organization would like to participate at the event, contact Stan Mish at 928-606-2925.
More like this story
SUBMIT FEEDBACK
Click Below to: