Entire Jerome police force served in U.S. military

By
Halie Chavez
|
@haliephoto
Originally Published: November 9, 2017 3:01 p.m.
At the Jerome Police Department, all eight officers are veterans of the United States Military. According to Police Chief Allen Muma, the department does not necessarily give veterans preference during its hiring process, but the entire staff made up of veterans is more than a coincidence.
"When you go through the military you do get that indoctorine, stress inoculation, you get subjected to stressors physically and mentally. I think that prepares you to better cope with law enforcement in general," Muma said.
Some police agencies do give extra points in the hiring process for veterans, as well as for college education.
Officer Russel San Felice said that the skills taught in the military that translate to police work are the use of a weapon, firearm proficiency, hand-to-hand combat and respect for a uniform.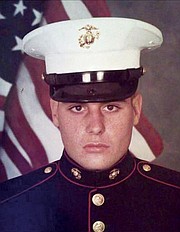 "Those kinds of things you don't have to re-teach someone coming out of the military into a police environment. Also leadership skills like following and giving orders," said San Felice.

Both Muma and San Felice said the structure of police departments is familiar to those who have been in the military.
"When you come out of a military environment into any public safety agency, you come into an environment that is para-military, which means we're organized in a similar type of rank structure. We've also got a similar chain of command," said San Felice.
The military teaches a mindset that officers with the Jerome Department find to be beneficial to police work.
"I think people coming out of the military are very disciplined. You learn to be able to take care of yourself and follow orders, which is really important," said San Felice.
San Felice says for him, going into the military was a means to achieve a career in law enforcement.
"I knew I wanted to be a cop, my dad was a cop, my uncle was a cop – I grew up in a law enforcement family. My great-grandpa was a cop in Italy before he immigrated to the United States. It was kind of in my blood that I knew I wanted to be a law enforcement officer. So I went the reserve path knowing that it would give me a little bit of an edge coming into the law enforcement field, but I'm glad I at least had the reserve experience that I did," said San Felice.
Two officers' service
Chief Muma served as a United States Air Force Police Officer in 1982 and received his honorable discharge in 1988 with the rank of Staff Sergeant. He served during the Cold War as a reservist stationed in Germany.
Muma says joining the military was one of the best decisions he's ever made.
"My father was in the military, all of his brothers were in the service. I felt a duty because of my family history to serve and I wanted to be in law enforcement. I got college money, I got experience, I got training in the field I wanted to be in, so to me it made perfect sense," Muma said. "It fulfilled that need inside to be a part of freedom fights. I think a lot of people had that calling. I just wanted to serve."
San Felice served in the Marines. Some of his fellow Marines at his base went to Beirut, Lebanon.
"They got blown up in Beirut – some of them were injured really badly and they came back to my Marine unit on light duty status. The stories I heard about how serious the combat was were really eye-opening," said San Felice.
Muma says his memories of service are mostly fond ones. He recalls being a young officer.
"You had so much time to be there, pick up your deployment bags, have all your records and literally be in line to get on the plane to fly someplace else in the world. It was kind of crazy. But you're young, there's kind of a sense of adventure," said Muma
Muma took part in a temporary duty assignment to Rhein-Main Air Base in Germany to add staffing to the air base police as they built a large runway known as Starbound West. Rhein-Main was a municipal airport conjoined with a U.S. base. Protestors gathered during the construction, which would extend the runway for nuclear-laden aircraft.
"The protestors had actually built a compound at the end where they were extending the runway. They were holed up there … they burnt our flags on the fence. It was quite the wild time," Muma said.
Esprit de corps
"I would say the honor, the integrity, the esprit de corps goes beyond anything that you can find in a civilian job, and I miss that. The only thing I regret is that it was such an impactful experience for me, I kind of wish I had gone as an active before I went into law enforcement," San Felice said.
"You learn to respect fellow human beings regardless of the branch of service you're in. Sure you can say the Marine Corps are built for war and the Air Force are flyboys but they teach you the same values, like honor and integrity," Muma said. "I think the military instills that in you. It makes you a better person. I know it did for me."
Both Muma and San Felice said that one of the biggest takeaways from their military service was the sense of respect instilled in them for not only their country, but for their fellow service men and women.
"One of the things that really changes you, while we didn't go into combat, we have a deep admiration for those who did," said San Felice.
"The biggest thing I can pass off is my respect for the military," said Muma, tears watering in his eyes. "As you can see, it stirs emotions deep inside me – my pride for my fellow veterans."
SUBMIT FEEDBACK
Click Below to:
More like this story