5 things to watch in sports this week Nov. 12
Originally Published: November 11, 2017 12:56 p.m.
Roughriders go for eighth title at home
Yavapai College men's soccer will go for another national championship, this time in Prescott Valley.
Mountain Valley Park hosts the NJCAA Division I national tournament this week. YC (21-2-3) enters as the third seed.
The Roughriders face No. 10 Waubonsee (17-4-1) from Illinois at 5 p.m. on Monday. Then they face No. 6 Mercer County (19-3-1) out of New Jersey on Wednesday at 2:30 p.m.
Pima, from Tucson, is also in the big dance, as the eighth seed and will face No. 1 St. Louis and No. 12 Illinois Central.
The winners of four groups will advance to semifinals on Friday at noon and 3 p.m. and the final is Saturday at 3 p.m.
College basketball comes to the Mecca
It may just be an appetizer before the main course but the 2K Classic benefiting Wounded Warrior Project is the first big college basketball tournament of the season.
The semifinals of the 2K Classic will be held at Madison Square Garden in New York.
Virginia Tech faces St. Louis at 4 p.m. on ESPN2 on Thursday, followed by Providence and Washington.
Then on Friday the third place game will be held at 3 p.m. on ESPN2, followed by the title game, also on ESPN2.

The tournament is the debut of new Washington coach Mike Hopkins and Huskies return three junior starters.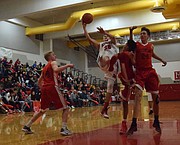 Cowboys return to action
The high school winter season starts this week with the first exhibition games of the year.
On Friday at 2 p.m. Camp Verde High girls basketball hosts Ash Fork and Williams in a scrimmage. After making the state tournament last year with a very young teams, the Cowboys will look to go even deeper this year.
Then at 4 p.m. the Camp Verde boys basketball team takes the court, also in a scrimmage with hosts Ash Fork and Williams.
There will be lots of basketball action in the CV gym on Friday.
Marauder winter sports start
Meanwhile across the Verde Valley, Mingus Union winter sports kick off and tip off.
At 4 p.m. Marauder girls soccer hosts Goldwater in a scrimmage. Last year the Marauders made the state tournament but start anew this year with a new head coach.
Then at 5 p.m. there's even more basketball as the Mingus Union boys team hosts a 4-way scrimmage.
Arizona hits the Oregon trail
UA football and Oregon have played some spirited games the last few years and this season's tilt figures to be no different.
In their first match up since the 2014 Pac-12 championship game, the Wildcats and Ducks face off in Eugene on Saturday at time that's to be determined.
While Oregon beat the UA in the championship game then, the Wildcats beat the Ducks earlier in 2014 on the road and in 2013.
This year new UO coach Willie Taggart built his first recruiting class by causing recruits to go back on their commitments, especially Arizona commits. Former UA quarterback commit Braxton Burmeister leads the Ducks.
More like this story
SUBMIT FEEDBACK
Click Below to: