Marauder girls basketball program building depth
Originally Published: November 16, 2017 2:01 p.m.
Mingus Union girls basketball expects year two of the Frank Nevarez era to be a promising one.
The Marauders open the season with a scrimmage at Arizona College Prep on Saturday.
"We're looking good," Nevarez said. "We do need a lot of work on guard No. 1 position, but our two, three, four and fives are set and we'll do fine."
Although this is Nevarez's second as head coach of the Marauders, in some ways he's still new, like relaunching Mingus Union's summer program. Last year he was hired too late to be able to have that.
"It helped a lot," Nevarez said about the summer play. "I do believe it helped a lot, especially with the leadership from Darien Loring. The freshmen that played for us in the summer, right now they're doing very well, in fact I think two of the three I think they might be starting on their freshman team, so they're doing very well and I had a couple others this summer who did well. So it's going to be good."
Loring said she wished more Marauders were able to play during the summer but that it had a positive effect.
In 2015-16 Mingus Union went 6-20 and last year they were 7-12.
"I think that we're coming strong, stronger than we did the year before and definitely the year before that and we have a better chemistry this year and we're excited for the season," Loring said.
Marauder girls basketball has become more popular on campus.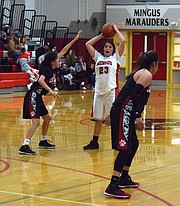 "We had a lot of girls come out this season, so we definitely have a lot of depth on freshman, JV and varsity," said Mingus senior Nikki Zielinski. "So we're building a good program this season."
Nevarez said Loring and Zielinski are the leaders of the team. Zielinski is also a captain for the softball team.
He said junior Summer Scott, senior Kaycee Williams and junior Katrina Roberts have also had strong starts to the season.
"Really for the most part, most of the girls are doing very, very well, so I'm excited to be honest with you," Nevarez said. "There's just a few things that we need to work on but I think if we do that we'll be okay, we'll be competitive."
Mingus Union lost Destiny Razo, who was second team all-region, but so was Loring. Zielinski was honorable mention.
This season the Marauders are installing a new offense.
"We're way ahead of the ballgame, way ahead of the ballgame," Nevarez said. "With what we did over the summer and even prior to the season starting, I had a good number of girls coming out to open gym, whereas last year, we didn't so this year they started coming out and I'm talking here in September and October and so I think that's going to pay dividends."
After Flagstaff and Coconino made the 4A final four last year, Nevarez said the Grand Canyon will be difficult once again.
"The region's always tough," Nevarez said. "They're strong every year. Bradshaw looks to be strong again this year. Lee Williams, they really had a young team this year and they look strong again this year. So it's a tough region, there's no doubt about it."
The Marauders open the regular season at Dysart on Nov. 21. Their home opener is Nov. 28 against Cactus at 7 p.m.
"We're a younger team, he's building a young program, so there's a lot of potential this year and the following years, so it's going to be an exciting season," Zielinski said.
SUBMIT FEEDBACK
Click Below to:
More like this story