Wall impressed with Cowboys' basketball work ethic
Originally Published: November 16, 2017 2:16 p.m.
Camp Verde High boys basketball players have impressed head coach Daniel Wall so far this year.
The Cowboys kick off the season when they host scrimmages against Ash Fork and Williams on Friday at 4 p.m.
"It's been good, practice has been good so far, competing hard, guys have been getting after it, they're excited about it," Wall said. "They're working, they're really working hard. Nothing to complain about from that side of things."
Wall said they won't know a lot about the team until that first scrimmage but the effort has been a good first step.
He said sophomore shooting guard/small forward Abe Gonzalez, senior point guard/shooting guard Chase Decker and point guard/shooting guard Ismael Hogan have really impressed.
"As far as the effort goes, it's been just about everybody, giving a really good effort," Wall said. "As far as who fits where and how it looks, you never really know for sure until you get into that first scrimmage and for sure the first couple of games but a number of them look like they spent a lot of time in the offseason trying to get better, working on stuff."
Last year the Cowboys went 2-16, 1-7 in region play.
"We're pretty fast this year the games are going to be more exciting, be worth watching," Gonzalez said. "We're more focused this year. Every guy wants the same thing and that's win. So we're just mentally focused during practice and that's gonna pay off during games."
Junior center Dayton Smith said the Cowboys worked a lot on sharing the ball and working as a team in the offseason.
"I think we're way better from last year to now," Smith said.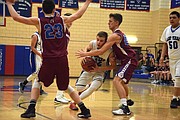 Gonzalez was second team all-region last year. Current senior Ryan Loza was honorable mention all-region, along with former Cowboys Reyes Herrera and Aaron Tracy.
With just three seniors, Loza, Decker and guard/forward Payton Sarkesian the Cowboys are pretty young.
Newcomers that have impressed Wall are sophomore C.J. Bast, junior Dom Pittman and sophomore Jordan Littlefield.
"A lot of the new guys are growing they're going to be a big part of what we're going to do with the basketball program," Gonzalez said. "Like Jordan Littlefield, he's growing immensely, Dom, they're all going to be players that are going to be a big part of our program so it's exciting."
Although the senior class is small, they are talented.
"Loza's been competing and contributing since his freshman year and so that's a lot of minutes logged and so he'll be ready to go," Wall said. "Chase had a big role last year until he got hurt and so coming back he looks fresh and strong and ready to get after it and Payton looks really sharp this year, so confidence seems to higher for him this year and he's starting to take on a little more leadership responsibilities, it's been neat to see."
The Cowboys open the regular season when they host Mayer on Nov. 21 at 7 p.m.
Wall said the region will be competitive.
"Region's tough, region's tough," Wall said. "Paradise Honors looks really good this year, I would imagine you'd pick them to win it at this stage of the game. Sedona brings back four kids that made very good contributions last year, that are going to be great athletes. Northland Prep graduated a bunch of kids but they're always ready to compete and work hard and Glendale Prep is kinda the sneaky team that they don't look amazing on paper, but they play so hard defensively and they really play as a team."
More like this story
SUBMIT FEEDBACK
Click Below to: