Editorial: Expert PR job by superintendent on potential school closure
Originally Published: November 18, 2017 2:28 p.m.
The last two times we went down the road of closing an elementary school in the Verde Valley, it turned into a public relations nightmare for the school superintendent.
When former C-OC chief Barb U'Ren floated the idea of closing either the former Tavasci School in Verde Village or Oak Creek School in Cornville, she quickly became "Public Enemy No. 1" in the Upper Verde. Her critics were ruthless. The tug-of-war over which school would be closed was ugly and divisive.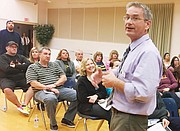 Oak Creek School eventually won out. In a later stroke of brilliance – although highly controversial at the time – U'Ren reopened Tavasci as the Mountain View Prep International Baccalaureate School, which has been an amazing success story for C-OC.
Likewise, when declining enrollment forced the Sedona-Oak Creek School District to float the idea of closing one of its campuses, Superintendent Dave Lykins was in the hot seat and firm battle grounds were drawn over saving the Big Park School in the Village of Oak Creek. Ironically, after devising a realignment of the district's campuses, the Big Park School was saved and it too now is in the process of being re-invented as an International Baccalaureate School.
Now, for Cottonwood-Oak Creek, here we go again. Superintendent Steve King conducted his first community meeting Wednesday with staff and public. He explained the district currently has as many as 35 empty classrooms at its various campuses. He further explained his passion for the K-8 campus model. King clearly showed his hand by stating three current campuses in the district could be converted to two K-8 schools. Most importantly, he invited the community's feedback on how to best address the problem ideally – in a perfect world -- with a solution in place by the start of the 2018-19 school year.
History is not on King's side on whether he can escape public wrath for even discussing the prospect of closing one of the community's schools. He certainly is not going to win any friends.
But, he has several things going in his favor to soften community sentiment on the issue.
First, King has an uncanny calming influence about him. His very demeanor is such that he can ease tension simply by walking into a room.
Second, King is on the front end of this problem very quickly. He made it public, and got the community involved, long before the rumor mill could unload with its version of the facts.
Third, King clearly and thoroughly explained the problem confronting Cottonwood-Oak Creek and why something must be done. Further, he clearly spelled out a potential solution to the problem.
Four, King has made it exceedingly clear that no decision has been made. He wants the community's ideas and help in finding a solution. He has left no doubt that the community will be involved in the ultimate solution to this problem.
Again, as stated above, King cannot expect to win any friends in broaching the subject of closing a school. But it's hard to imagine anyone playing their public relations cards more perfectly than he has thus far.
Already, the blow has been softened.
And that is a huge step in keeping this dialogue civil and solution-focused.
More like this story
SUBMIT FEEDBACK
Click Below to: