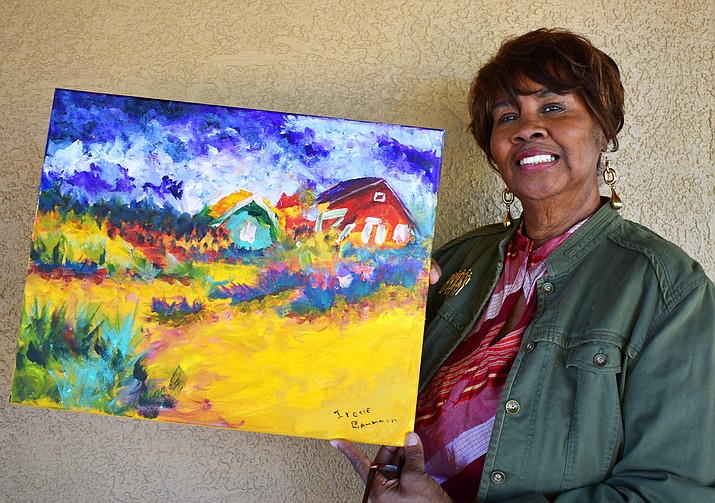 ---
---
The EL Valle Artists Association Artist for Months November/December 2017 has been selected and is presented to our community of members, friends and art lovers.  Our community encompasses all of the Verde Valley.
Irene Bauman recently participated in an acrylic workshop, sponsored by the EL Valle Artists Association. She thoroughly enjoyed the event, and the opportunity to experiment with another style of painting. The members have selected her as Artist for November/December 2017.
However, Irene is a seasoned artist, and once alone with the painting, her own style compelled her to work with the piece using an impressionistic style. Irene Bauman is also the Chairperson for Workshops.  
Workshops are a valuable resource to learn something previously unknown, experiment with a new style, or just to enjoy the companionship of other artists. Irene is always interested in hearing from artists willing to demonstrate at EL Valle monthly meetings, and follow up with a workshop later in the month. If you are an artist interested in teaching, please feel free to contact her at 928-646-0195 or by email, ibgrace6@msn.com.
More information regarding the EL Valle Artists Association can be found at their website, elvalleartists.org. You will find information on membership, future art shows, workshops, meetings and demonstrations.  
You can view Irene's latest painting at the Cottonwood Library.  For more information, call 928-634-0076.