Camp Verde wrestling could make another title run
Originally Published: November 22, 2017 11 a.m.
Camp Verde High wrestling may be young, but they could make a run at another state championship.
Head coach Tracy Tudor said the young Cowboys have surprised him.
"The first week we started out kinda rough, not sure what the reason for that was but just rough, pretty young, young group of kids but man as the weeks have progressed, especially at the end of last week, we were coming together as a group," Tudor said. "So I'm pretty impressed with such a young group of kids coming together so quickly and working so hard all the way through practice."
The Cowboys return four state champions: Korben Uhler, Skyler Pike and Tristian Stanfield.
Tudor expects all of them to repeat.
"I think the team's been doing pretty good," Uhler said. "We've all been working pretty hard, like the coaches have been working us pretty hard and everyone has a good spirit in there, so I think we have a good chance."
In addition to the defending champions, Tudor thinks Daniel White, who is wrestling at 145 pounds, to place at state as well and for 106-pounder Keene Todacheene to "do some damage" as well.
The Cowboys start out the season without a wrestler in the 182 slot and with out varsity experience at 138. However, after half the season, transfer Anthony Tinghitella will be eligible.
Tinghitella transferred from Ironwood Ridge. The Tucson school won Division II state championships in 2011 to 2013 and the Division I title in 2016.
"He's never been a placer at state but I think he's got the goods to go all the way personally," Tudor said. "We knew about him because he gave our four time state champ Hayden Uhler all he could handle last year in a tournament in a match, so we know he's good enough to really do some good things."
Stanfield will wrestle at 220 again.
He said this season has gone pretty well for him so far, that he has had a few minor injuries but he's worked past them pretty easily.
"We got a lot of new guys working hard, learning some stuff," Stanfield said.
Pike moved up to 120 pounds. His goal his year is to undefeated.
"I've been doing pretty good, so I should have a good season again," Pike said.
Uhler said his four-time state champion brother's advice to keep working and don't slack off. His goal is also to go undefeated after dropping one match last year like Pike.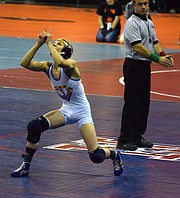 "For me personally it's been going good, I've been giving it my all everyday, praying to the Lord about everything," Uhler said.
The Cowboys start their schedule quickly, with two events this week. On Saturday they head to the Yavapai Duals at Embry Riddle.
"We got a lot more wrestling this year we're going to have a busy schedule starting out," Tudor said. "Big tournaments: we're going to Joe City this year, that's always a tough tournament, Window Rock is going to be one of the toughest tournaments in the state this year, Sunnyside, one of the best teams in the state is going to be there to meet us. We're going to last chance tournament at Bourgade Catholic at the end of the year. We've got another one coming up over pretty soon, Yavapai County Duals, it's always tough, you have all the Yavapai County schools will be at that one."
Pike said he thinks the Cowboys have a shot at winning another team championship.
The Cowboys won the state championship in 2015, 2014, 2013, 2008, 2007, 2006 and 2004. They finished second in 2012, 2009 and 2005 and third in 2011, 1987 and last year.
"My other goal is to get that team state championship and we're not there as a team yet but I see us at the end of the season taking it, we just gotta stay close with the Lord, we gotta keep striving towards it, like we can't let off," Uhler said.
Tudor said the Cowboys will do as well as they want to this year.
"They're becoming a brotherhood, they're a young group, but man they're coming together and as long as they keep doing that and have that energy, and desire to do it, I've seen teams just like that win state championships here so it just depends on them," Tudor said.
More like this story
SUBMIT FEEDBACK
Click Below to: