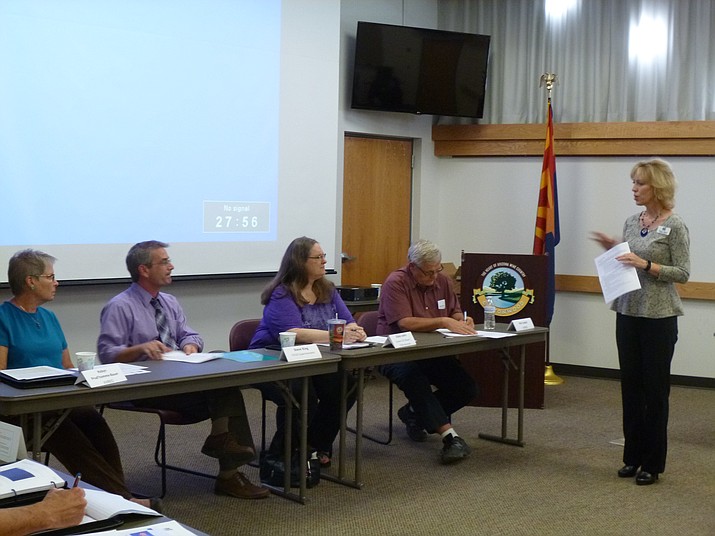 Originally Published: November 22, 2017 8:20 a.m.
Class members of Verde Valley Leadership Class XII spent Friday, Oct. 20, engaging in insightful presentations, taking a tour of energy-efficient homes and concluding the day with a thought-provoking panel discussion on regional sustainability. Verde Valley President Tammy Yoakum welcomed everyone to a fun-filled and informational day on issues facing the Verde Valley.
The first speaker of the day was Verde Valley Leadership graduate Jennifer Hernandez of Expect More Arizona. Expect More Arizona is a statewide education advocacy group. Hernandez reviewed the basics about the state's legislative processes and encouraged the class to lead civically and engage locally. The next speaker, Executive Director of Manzanita Outreach, Mike Newcomb, brought some food for thought to the table and elaborated on servant leadership.
The question is not "Can we?" but "How can we?" The morning wrapped up with the importance of local ownership by Northern Arizona Director for Local First Arizona, Ruth Ellen Elinski. Her presentation captured an insightful look at the benefits of small business networks and being able to build a stronger community through local ownership. She stressed the concept of the Verde Valley as a destination and the need for all communities to think regionally as each has something different to offer.
To start the afternoon, Verde Valley Leadership members took a walking tour of model homes at Crossroads in Clarkdale. The presentations included the building designs and concepts behind these homes which are built to the highest, award-winning energy star ratings in the country. Just think of being afforded the opportunity to live in a self-sustaining home right here in the Verde Valley.
The day concluded with a panel discussion on Regional Sustainability through affordable housing and a qualified workforce. Members of the panel included Robyn Prud'homme-Bauer (VVREO), Steve King (Superintendent COCSD), Diane Joens (former Cottonwood Mayor and STEM advocate) and Phil Terbell (VVREO). The discussion focused on the future of the Verde Valley and the balance between education, business, and the community connection. The future is bright when leaders from all these areas – social, economic and environmental – collaborate to create pathways for opportunities and develop relationships for positive change.
Verde Valley Leadership is about inspiring individuals to action through skills development and active engagement in the community. For more information about Verde Valley Leadership or applying for next year's class visit our website at www.vvleadership.org or contact us at info@vvleadership.org.
More like this story