Recent K9 investigations lead to drug busts
Staff Reports
Originally Published: November 25, 2017 2:03 p.m.
YAVAPAI COUNTY – A Phoenix man was arrested near Cordes Lakes Oct. 31 after a Yavapai County Sheriff's Office K9 deputy reported finding marijuana, Oxycodone, and Fentanyl in the suspect's car.
The deputy stopped a silver Nissan Altima for a moving violation on northbound I-17, according to a YCSO news release.
The driver was identified as 19-year-old Manuel Anthony Villa who claimed he did not have a license.
The deputy immediately detected the odor of marijuana coming from inside the vehicle, and after detaining Villa, searched for the source and found several grams of marijuana and marijuana brownies among drug paraphernalia.
YCSO said that additional searching revealed a plastic baggie containing approximately 182 blue round tablets whose labeling indicated Oxycodone.
"Based on the deputy's training and experience, he was aware that tablets fitting the color and labeling of the tablets seized were known to contain Fentanyl, an extremely dangerous and potentially deadly narcotic," stated the release.
Villa was arrested and booked into the Camp Verde Detention Center on charges including transportation of narcotic drugs for sale; possession of narcotic drugs for sale; and possession of marijuana and drug paraphernalia.
He has since been released on a promise to appear.
During follow-up on the case, the tablets were field tested. Fentanyl was the primary content. Detectives were able to get an immediate lab test through the Department of Public Safety, stated the release.
A Partner's Against Narcotics Trafficking (PANT) detective noted that there were several cases throughout the state involving counterfeit 'mimic' pills being circulated which had the appearance of prescription medications, but in many cases actually contained Fentanyl.
For further information on the dangers of Fentanyl, see https://www.drugabuse.gov/drugs-abuse/fentanyl.
Man arrested for possessing 3.5 pounds of cocaine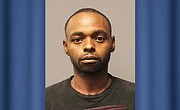 On Nov. 7, 31-year-old Jimmy Mosley from Coolidge was arrested on charges including transportation of drugs for sale; possession/use of drugs for sale; possession of drug paraphernalia; and involving a minor in a drug offense.
Mosley was found in possession of 3.5 pounds of cocaine, according to a YCSO news release. Mosley remains in-custody on a $45,000 bond.
A YCSO K9 deputy stopped a gray Chevrolet Malibu for a moving violation on I-17 near SR 69 in Yavapai County. Upon contact at the passenger side window, the deputy detected a marijuana odor inside the vehicle. The driver, Mosley, was with a 29-year-old female front seat passenger and two children, ages 3 and 5, in the back seat.
Mosley remained extremely nervous during his contact with the deputy, said YCSO. In order to determine the source of the marijuana odor, the occupants were directed to exit the vehicle while it was searched. In the trunk of the vehicle, deputies found a package behind liner material containing apparent illicit drugs. Field testing indicated the powder was cocaine which weighed in at 3.5 pounds, according to the release. The results of the investigation indicated Mosley was transporting the cocaine and his adult passenger was not involved.
More like this story
SUBMIT FEEDBACK
Click Below to: