---
---
Made In Clarkdale invites you to the community's 31st Annual Showcase "In Celebration of Community and Creativity."
Continuing the tradition of local art and music, this years event will take place at the Clark Memorial Clubhouse in historic downtown Clarkdale, at 9th and Main St., Nov. 30 through Dec. 4.
All events are free and open to the public.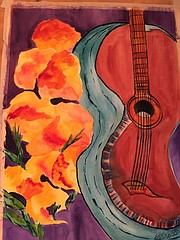 "Drawing upon the deep wealth of local talent and creative spirit, this years showcase was developed with the intention of representing all our communities art treasures", explainedBear Schutz, part of the new art/management team.
"Along with the colorful core group of Made in Clarkdale Artists, there will be a group showing ceramics from the Reitz Ranch, as well as a new group of art students from Yavapai College. This is a great opportunity to meet the artists, view their work and purchase one of a kind original art."
This year's show is sponsored, in part, by the Friends of the Clark Memorial Library who will be selling books to help keep the library open.
Bursting with innovative art the show will open on Thursday at 1 p.m. Marsha Foutz will conduct a clay class for the Clarkdale-Jerome students. Starting at 4 p.m., the folksy sounds Clarkdale Greg and Friends will entertain into the evening.
The show will again open at 10 a.m. on Friday. Clay classes will continue at 1 and art demonstrations will happen throughout the day.
The Gala begins at 6 p.m.
Gather with friends to enjoy the music of The Janice Paul Combo, view fine art, munch on tasty bites from the Clarkdale Market, and have a glass of local wine from The Four~Eight (Cash/credit bar).
Saturday will open at 10 a.m. with another day of art and demonstrations. Back by popular demand, the fun continues with the always uplifting Jerome Ukulele Orchestra 4-6 p.m.
Sunday (again opening at 10 a.m.) will be the last day to join the excitement, view and purchase the art, and get a book or two. There will be a special music performance by Sean Williams from noon to 1 p.m. Bear Schutz will perform music on his handmade instruments and Native American flute 1-2 p.m. The Raven Sisters will wrap up the show with their melodic harmonies from 2-4 p.m.
For further information about the show, artists and entertainers visit the website at www.madeinclarkdale.org https://annual-art-showcase.com. Or facebook/MadeinClarkdale.
Made In Clarkdale is an association dedicated to supporting the artists and art education of Clarkdale and the Verde Valley.