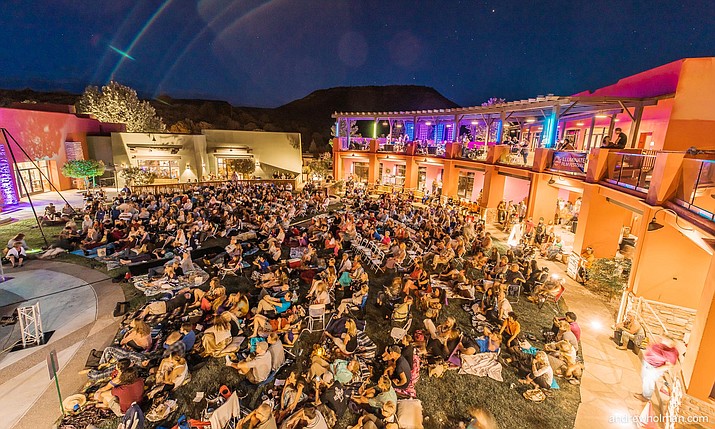 In addition to all the fine dining & shops, The Collective Sedona in the Village of Oak Creek is proud to host many festive holiday happenings for you to enjoy this December!

The Collective Sedona will host the first 'Festival of Angels' FUNdraiser to benefit Cornucopia Community Advocates, Saturday, Dec. 2, 5-9 p.m., in Vista Hall.
Sedona and the Verde Valley are wonderful places to live. Our area abounds with charitable nonprofits and their dedicated volunteers. The services they provide to our communities is almost immeasurable. Yet many of us don't know who these people are or what they do to support us all. Meet many of them, all in one place: The Festival of Angels on December 2nd, from 5 to 9 pm.
The Festival of Angels will be an evening of sharing the caring, entertainment, fun and treasures in celebration of all the angels and their nonprofit organizations.
Cornucopia Community Advocates is hosting this event. Among all the great programs run by Cornucopia, one of the most important is their service as an umbrella nonprofit for fledgling volunteer organizations.
The Yavapai Food Council got its start with Cornucopia. There are the Tewa and Hopi projects that support those communities out on the Mesas. If you've attended a concert at Old Town Center for the Arts, you've been to a venue supported by Cornucopia.
The Sustainability Alliance and Inspiration of Sedona both work to help improve the quality of life in the area, thanks to Cornucopia. SedonaKind and the Verde Valley Homeless Coalition work through Cornucopia to bring kindness and empowerment to our community.
These groups and others are participating in the Festival of Angels. "We know how much we all appreciate our neighbors who dedicate themselves to the nonprofits in our area," said Donna Busse, Cornucopia development director.
The night will feature live entertainment, games for the kids (and kids-at-heart), dancing, food and cocktails, a silent auction with great prizes, plus a 50/50 Split Raffle where you can win big. Entry is nearly free, just a small donation.
Funds raised benefit Cornucopia Community Advocates and many other charitable community service programs and projects. For more information, contact Donna Busse, Director of Development, at 928-284-3284 or info@cornucopiacommunity.org. Learn more about the organization by visiting their website at cornucopiaca.org/event/festival-of-angels.
For more information, contact Donna at 928.284.3284 or donna@cornucopiacommunity.org. Also visit http://cornucopiaca.org/ to read about other great Cornucopia initiatives.
The Emerson Theater Collaborative presents the beloved American holiday classic "It's A Wonderful Life" as a captivating 1940s live radio broadcast, in the Collective's Vista Hall, on December 7th, 8th, 15th, & 16th at 7pm and on Sunday, December 17th at 2pm. Tickets are $25 for adults, $20 for Seniors and Students, and can be purchased at the door or online at http:www.EmersonTheaterCollaborative.org or by calling (860) 705-9711.
"It's A Wonderful Life" play is written by Joe Landry, produced by Camilla Ross, directed by the accredited theatre, film, and TV director John Reynolds and featuring an all-star local cast: Skyrah Wilmer, Shondra Jepperson, Lisa Schatz Glinsky, Michael Peach, Tom Jepperson and Brad Roberts. With the help of an ensemble cast that brings a few dozen characters to the stage, the story of idealistic George Bailey unfolds as he considers ending his life one fateful Christmas Eve. Don't miss this special holiday treat.

Emerson Theater Collaborative's mission is to serve youth, under-represented communities and artists with an emphasis on diversity, by producing innovative and exhilarating theater in Sedona AZ and Mystic Connecticut. ETC explores timely themes and issues through new, original works and modern theatrical classics.
Be transported on a musical magical carpet ride as Meadowlark performs a vibrant, colorful mix of original world music and holiday favorites for The Collective's Second Saturday Art Walk, from 5 – 8pm on December 9th in their Arts Building (look for the big Blue Door). Enjoy art, visiting with local artists, complimentary wine and appetizers, and Meadowlark performing from 5-7 p.m.
Meadowlark's skillful combination of a single guitar and solo flute produces captivating, organic music that is as distinctive as it is diverse. There is wonderful chemistry between guitarist Rick Cyge and flutist Lynn Trombetta and listeners are amazed to learn the peaceful, soothing, ethereal, richly layered music that is their signature sound is created by only two musicians. Performing on flute, Irish whistles, mandolin and guitar, Rick Cyge and Lynn Trombetta as Meadowlark create an uplifting, instrumental voyage inspired by the beauty of natural places throughout the desert southwest.
The Collective Sedona is located at 7000 AZ 179 in the Village of Oak Creek in Sedona, AZ 86351 and its special event space is Vista Hall, located on the second level and accessible by stairs and an elevator. Explore their shops & fine dining at TheCollectivesedona.com.
More like this story