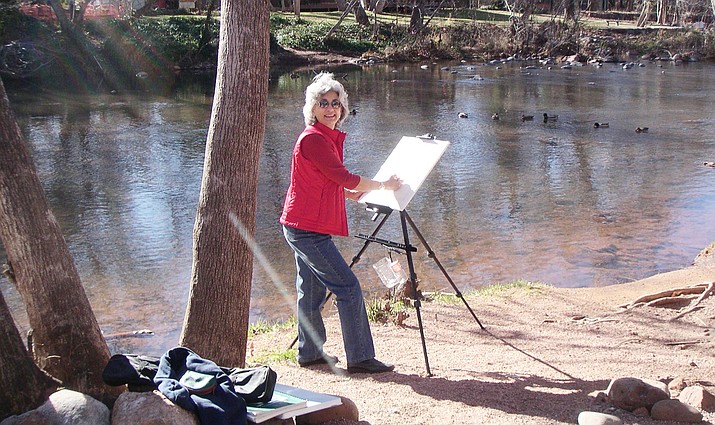 If you've been to a Sedona theater production around the Christmas or Easter season you've seen Lynne's handiwork. A private person, Lynne is an accomplished musician, watercolor artist (displayed in the VOCA clubhouse), former homeschool mom of three, and theatre graduate from the University of Arizona. Her current role is directing Potter's Hand Productions, the local 501c3 that provides those amazing holiday shows for our community and the many tourists who attend.
In 1963 Lynne's parents dragged her and her brother to Sedona, living at the Hawkeye Trailer Park (Sedona Art Barn's current site). She remembers a paved road in the Village and only two buildings standing: the ranch house and an "A" frame (where Chevron now sits), with two gas pumps and, inside, milk and bread. Her parents bought a lot on the (future) golf course, even offering to provide Lynne and her brother with a down payment if they each wanted one. The lots were $500 each. They declined, wondering why anyone would want to live in a barren desert.
While attending Glendale Community College, Lynne acted with a professional theatre company (working with yet undiscovered Nick Nolte). Becoming an exchange student to Trinity College in Dublin, Ireland she met her future husband, Ray, a professional musician. She returned to the States and attended UofA. That year, Lynne attended a Nicky Cruz Rally which radically changed her life. Nicky, a notoriously violent former gang leader from New York City, had become a Christian, traveling and sharing his story. "I accepted Christ at the rally and became a different person." After graduation, Lynne married Ray, returned to Ireland and focused on being a full-time mom. She offered speech therapy to kids and volunteered in her son's classroom.
Relocating from Dublin to the VOC in 1983, they built a home, moving in January 1, 1985. "Sedona was experiencing one of the coldest winters in many years. It was freezing and we didn't have the heat turned on yet." So much for the desert. From 1986-1996 Lynne organized and directed the Missoula Children's Theatre at Verde Valley School. In 1996, at the request of the Big Park Regional Coordinating Council, she oversaw a census of the kids in the Village.
Meeting Jane Alden at a benefit performance of Godspell in 2004 changed her direction. Potter's Hand Productions became, and remains, her passion. When Jane stepped aside in 2012, Lynne took the reins. The productions Journey to Jerusalem and Pilgrimage to Bethlehem were eventually replaced with Esther, The Christmas Gift and Letters from Luke (all original scripts and music written by Lynne).
Lynne invites you to this year's FREE community musical, The Perfect Tree, performed at Historic Wayside Bible Chapel, on December 8, 9 & 10, 2017, and at the Village Church of the Nazarene on December 15 and 16. Friday performances are at 7 pm, and Saturdays & Sundays are at 3 pm. Performances are free of charge; you can also purchase reserve seating for $5. For more information visit www.PottersHandProductions.com.
Jim Cunningham, Jr. is a pastor, husband, father, lover of people, friend, neighbor, counselor, teacher, book collector, and jack-of-all-trades. Meet him here each month to become acquainted with yet another Village resident.
More like this story