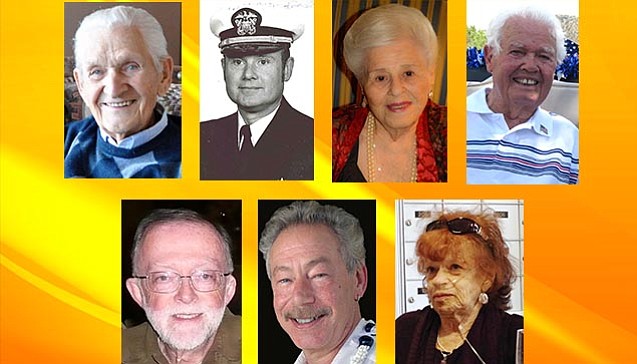 As our year draws to a close, we look back at those Village friends, neighbors and co-workers who have passed on. The Villager honors each of them.
Our Village-Big Park Community thrives, thanks to those who have been a part of it and have given so much in countless ways. "So long as the memory of beloved friends lives in my heart, I shall say that life is good." Helen Keller
FRIEDA ZUCKER
Many people in the Village fondly remember my late husband, Dr. Melvyn Copen, and all that he did for our community and its vision.

His beloved mother, Frieda Zucker, was a huge influence on him.

Frieda lived in New York City, and died in the Spring of 2017, at 102. I called her Mom, for all of those years. In fact, after Mel passed, I found myself visiting with her almost every day, on the phone.

She most definitely inspired me greatly, as she did Mel. Submitted by Beverly Kievman Copen
RICHARD G. BRAMAN
December 8, 1956 - June 9, 2014
Founder of The Sedona Conference, a think-tank for judges and lawyers on ethics of Law and Policy in the areas of Antitrust Law, Complex Litigation and Intellectual Property.
See www.thesedonaconference.org and Richard, our Pathfinder, will be sorely missed. Submitted by Margo Braman
STELLA (ESTELLE) MENDELSON
I miss you my dear star friend, a dog lover and artist with a green thumb. Submitted by Linda White
JOHN CORNELIUS
John Cornelius, a veteran, an American and a friend who served in WWII and continued serving through his raffle benefiting the disabled veterans in the Prescott VA hospital. Submitted by Cathleen Banister-Marx
ANTHONY (TONY) VAIKUS
Anthony (Tony) Vaitkus, retired and moved to the Village of Oakcreek in 1977. Tony joined the Golf Club at VOCA, happily playing golf until his passing in September 2013. Submitted by Eva Vaitkus
LCDR. DUANE E BUCK
March 7, 1935 -
September 8, 2017
Duane is survived by his wife Connie, four children, Stephen, Duane A, and Donna E. Wilson & Lori Ann Buck, seven grandchildren and four great grandchildren. Duane and Connie lived in the Village of Oakcreek since July 1990. Submitted by Connie Buck
PHILLIP HUNTER
1933-2017
Phillip retired from U. S. Steel Research & Engineering, Pittsburgh. He
and his wife Donna moved to the Village in 2002. Phillip collected and restored antiques, was an avid Pittsburgh Steeler fan, but most of all loved working in the cactus gardens he created on House Mountain. He worked on the Mountain until he left us on Nov. 10, 2017. He was a true "Mountain Man". Submitted by Donna Phillip
More like this story