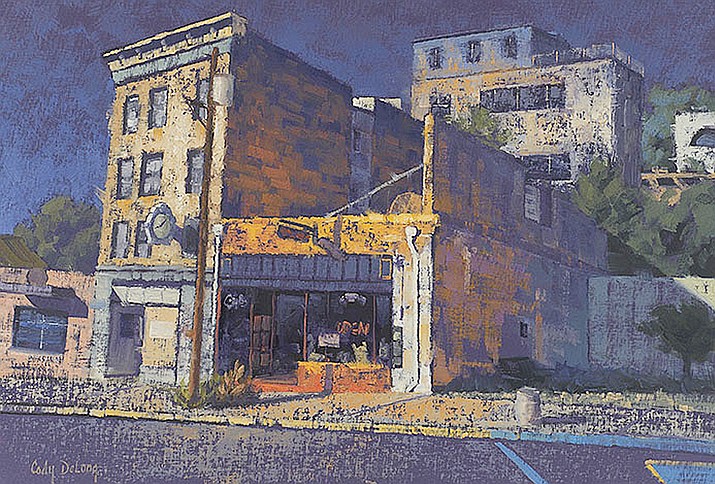 ---
---
Once again, the magical mountain town will be hosting a night filled with art, music and refreshments galore.
Art Walk is the only night that galleries are open from 5 to 8 p.m.
With 22 participating galleries and studios and many sponsoring businesses and restaurants offering specials, this is a festive night.
The Spirit Room once again welcomes The Lingo Trio on Art Walk night beginning at 9 p.m.
Visit Jerome Art Walk on the first Saturday of every month from 5 p.m. until 8 p.m.
A free shuttle transports visitors from one end of town to the other throughout the evening.
For more information visit www.jeromeartwalk.com or call Donna at (928) 649-2277.
During the Oct. 7 Jerome Art Walk, Jerome's newest retail destination -Threads On Main will host its Grand Opening Celebration. Located in the Sullivan Apartments building and past home of the popular Designs On You, Threads On Main will continue the tradition of offering women's fashions, accessories and home décor items. 
As with Pura Vida Gallery, owners Michael Gamble and Danny Burris have filled the new store with mainly American made and American handcrafted items. 
The Grand Opening Celebration will include live music and a fashion show running between Threads and its sister store Pura Vida Gallery.
Join the Threads and Pura Vida gang in welcoming the newest retail destination in Jerome with champagne and chocolates from 5-8 p.m. Saturday, Oct. 7. 
Threads on Main is located at 367 Main Street in Jerome and can be reached at 649-9502.
Zen Mountain Gallery is a collection of over 30 local artists including fine art, jewelry and pottery with a contemporary and contemplative emphasis.
The gallery has a lot of new work including new glass art from Susan Moody, new pottery from Hans Miles, a new original painting from Raina Gentry, new jewelry from Komala Rohde and an ink on paper piece recently released from the estate of the late Donald Voss.
Made in Jerome Pottery always has new items fresh from the kilns and the shelves are well stocked.
Come by for some live music and refreshments.
Cody has just returned from another successful show at the Grand Canyon Plein Air Invitational.
He is now back at work in the Studio on his latest 'Ghost Town Impressions Series' of paintings. They are creating quite a buzz, stop in and see what all the fuss is about.
Live music. Located at 300 Hull Ave. between Spook Hall and the Visitors Center. CodyDeLong.com
"Seeing the Unseen: New Paintings from Birgitta Lapides" opens at The Jerome Artist's Cooperative on Saturday, Oct. 7, with a reception for the artist from 5-8 pm at the Jerome Artists' Cooperative Gallery. Refreshments will be served. 
The show runs thru Nov. 29. Artist's website: www.birgittalapides.com. Jerome Artists' Cooperative Gallery, located at 502 N. Main St. in the old Hotel Jerome.
Stop by The Old Jerome High School to meet local author and artist Zushka at her Red Bench Studio.
What's coming up this fall and winter at Red Bench. The studio will transform into a photo gallery (Red Bench Gallery) beginning with Karl Mullings of KFM Designs out of Flagstaff.
Each month another photographer will be featured, along with an Art Opening during the First Saturday Art Walks, including food, wine and live music.
The gallery is booked through the end of February with photographers from around the state, each one showing their specific style of photographs, matted and ready for sale.
Live music performances are in the works, as well as monthly Belly Dance and Kundalini Workshops and Modeling Classes.
The space is available for events, meetings and classes.
Gallery 527 announces a new exhibition, "Choose What You Create" – all new work by Julie Bernstein Engelmann, opening Oct. 7 from 5-8 p.m.
Each of Engelmann's dramatic abstract paintings embodies a quality she chooses to create in her life. 
Engelmann's lush abstracts have won numerous awards. She was honored with a retrospective exhibit, Being Spirit, at the Southern Alleghenies Museum of Art at Altoona, Pennsylvania.
Site Coordinator Barbara Hollander stated, "Julie Bernstein Engelmann combines passages of poured and brushed paint that remind one of stained glass creations.
"Her technique relies partly on many years of study and partly on an intuitive, creative interaction with what she refers to as the painting spirit.
"The resulting works are spiritually resonant and ineffably uplifting."
Engelmann holds an MFA from UCLA and a BA from Barnard College, where she studied with Milton Resnick, first-generation Abstract Expressionist.
She teaches Luscious Abstractions on the faculty of the Sedona Arts Center School of the Arts. "Choose What You Create" will be on view at Gallery 527 in Jerome through Dec. 29.  
For more information about the Jerome Art Walk, contact Donna at 928-649-2277.