Mingus, Camp Verde cross country runners rounding into form
Both teams three weeks out from state-qualifying race
Originally Published: October 5, 2017 1:21 p.m.
With three weeks remaining before the all-important Arizona Interscholastic Association Sectional races, both the Mingus Union and Camp Verde high school cross country teams have made significant strides this season.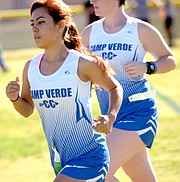 That was clearly evident at the prestigious Desert Twilight – labeled the premier meet of Arizona cross country by azmilesplit.com -- meet in Casa Grande last week. Three members of the Mingus boys team cracked the 19-minute barrier for 5,000-meters.
"Our boys did incredible," said first-year Marauder Coach Justine Sparks.
The Mingus boys ran in the small-school varsity race and finished 36th among 59 teams. In all, there were 376 runners in the race. Freshman Jehiah Rogers lead the way for Mingus, covering the 5K course in 18:19, which was good enough for 109th overall. The next morning, Rogers toed the line again in the Camp Verde Invitational, finishing 6th overall in that race in 20-minutes, 34-seconds over 5-kilometers.
At Desert Twilight, Mingus junior Cody Wager was two seconds behind Rogers in 18:21, while freshman Riley Bliss covered the course in 18:34. Mingus' other two scoring runners, sophomores John Valentine and Braden Arnold, ran 20:38 and 21:04, respectively. All the Mingus boys recorded personal records in the
Boys Statewide Rankings for 5000 meters
1) 15:07.00, Thomas Cain, Cibola High School
2) 15:16.00, Andrew Burns , Brophy College Preparatory
3) 15:16.00, Anthony Haren , Perry High School
4) 15:18.00, Reece Donihi, Desert Vista High School
5) 15:20.00, Jacob Lewis, Boulder Creek High School
--Source: azmilesplit.com
race, said Coach Sparks.
For the Mingus girls, senior Hannah DeVore covered the 5-kilometer (3.1 miles) course in 20:58, one second off her all-time PR, and junior Meg Babcock, who has battled injuries this season, finished in 22:47.
The top local finisher in the Desert Twilight race was Sedona-Red Rock senior Nathan Hoyer, who finished 51st in the boys small school varsity race in 17:31.

For the Camp Verde runners, last week's showcase event was the Cowboys' own Camp Verde Invitational. Once again, junior Dominic Pittman led the charge for the Cowboys, finishing 10th overall in 21:12. Not far behind, in 16th place in the 43-man field, was sophomore Sy Hanson, who clocked in at 21:48 and claimed top overall honors among 10th-grade runners.
"Dominic and Sy are becoming more competitive toward the front and this is a good indicator of being ready for the State Qualifying meet,' said Cowboys Coach Mike O'Callaghan.
Girls Statewide Rankings for 5000 meters
1) 17:16.00, Samantha Schadler , Rio Rico High School
2) 17:22.00, Haley Wolf , Desert Vista High School
3) 17:37.00, Maya Smith, Northland Preparatory Academy
4) 17:45.00, Morgan Foster , Chandler High School
5) 17:45.60, Abi Archer , Chaparral High School
--Source: azmilesplit.com
For the Camp Verde girls, senior Claudia Escobedo finished 15th overall, covering the 5K course in an even 30-minutes.
Earlier in the week at Alhambra, Pittman dipped under 20 minutes for 5K with a 19:55 clocking and Hanson came in at 20:34. They finished 4th and 6th, respectively, in a 27-man field. For the girls, Escobedo was 8th overall in 39:38.
More like this story
SUBMIT FEEDBACK
Click Below to: