5 things to watch in sports this week Oct. 8
Originally Published: October 7, 2017 2:35 p.m.
Beat LA
The National League Division Series shifts to Arizona on Monday night.
After the Dodgers won Game 1 despite their ace Clayton Kershaw giving up four home runs. With the division series being five games, winning at home is crucial and the Diamondbacks look to improve on their 1-0 2017 postseason record.
The Diamondbacks host LA at 7 p.m. on Monday on TBS. Yu Darvish (10-12) is scheduled to start for the Dodgers and Zack Greinke (17-7) for Arizona.
The Diamondbacks' $206.5 million man can redeem himself against his former team after his stinker in the Wildcard Game last week. Arizona's ace only lasted 3.2 innings against the Rockies.
If necessary, Arizona hosts LA again on Tuesday night at 6 p.m., also on TBS.
US Soccer looks to clinch
On Friday night the United States men's national team pounded Panama 4-0 in Orlando to get to the brink of qualifying for the 2018 World Cup.
The win moved the USA into third place in the CONCACAF final qualifying round and the top three automatically get to go to Russia but the job is not done. On Tuesday at 5 p.m. on beIN Sports the Stars and Stripes face Trinidad and Tobago in the final game of the hex.
If they beat last place T&T then they're pretty guaranteed a World Cup berth. If they draw, then they are more most likely to make it to Russia but if they lose then it gets hairy.
According to ESPN, the USA has a 93 percent chance to qualify.
If the USMNT finishes fourth then they face Australia or Syria in a playoff. The two-legged Syria and Australia series is tied 1-1 after Syria's "home" game and so the Socceroos are the favorites but a USA/Syria match up would be pretty problematic.
Syria plays their home games in Malaysia right now and they are on the banned list so would the USA even get to play them at home?
Camp Verde Special Olympics Team hosts Mingus softball
On Thursday night at 6 p.m. Mingus Union softball will play the Camp Verde Special Olympics Team in a fun exhibition.
Marauder captains Nikki Zielinski and Lacey Sarvaro organized it and wanted to give back to the community in some way and hope the game will bring joy to both sides.
It will be at Butler Field in Camp Verde.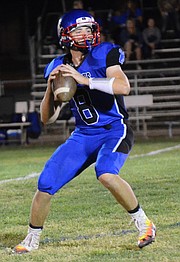 Cowboy girls soccer gets chance at revenge
On Thursday night at 6 p.m., Camp Verde High girls soccer gets another crack at No. 1 Northland Prep (15-0, 3-0 Central), this time at home.
On Sept. 26 the Spartans beat the Cowboys 8-0 in Flagstaff. However, since then, the Cowboys have beaten No. 4 Show Low and No. 5 St. Johns.
It's Camp Verde's last home game of the year, so they can't hold anything back.
Friday night lights
Friday is no doubt the best night for football in Verde Valley of the season.
At Mingus Union, the second place Marauders host No. 15 Flagstaff (6-1, 3-0 Grand Canyon) at 7 p.m. in what could be the de facto region championship game. After starting the season 0-3, Mingus Union has won three of their last four games and after spanking No. 12 Prescott 38-6, they appear ready to challenge the Eagles.
Over at Camp Verde, the resurgent Cowboys host Parker at 7 p.m. in their last home game of the season and Homecoming. Camp Verde started the season 1-4 but rebounded to beat then No. 18 Paradise Honors in their last action. They had a bye so they should heal a bit.
SUBMIT FEEDBACK
Click Below to:
More like this story